Why Marvel's Inhumans Movie Probably Won't Ever Happen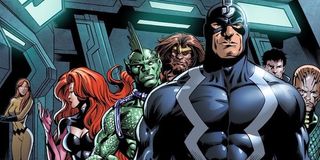 The Inhumans have been part of the Marvel universe since the mid-1960s, and in recent years, they've grown even more prominent. In the comics, the spread of the Terrigen Mist across the glove caused the population of this particular group of enhanced individuals to skyrocket. On TV, the Inhumans have played an integral role on Agents of S.H.I.E.L.D. since Season 2. However, they haven't had their chance to shine on the big screen, as the previously announced Inhumans movie was taken off the schedule earlier this year. Now it looks like said movie will never happen, as their future now rests on the small screen.
It was revealed earlier today that ABC will air an Inhumans TV series, which will "explore the never-before-told epic adventure of Black Bolt and the royal family. The series will begin airing in fall 2017 after the first two episodes air in IMAX for two weeks in September of that same year. THR also said that this series, which will air six subsequent episodes following the two-episode premiere, is "not the planned Inhumans feature film." Now that this announcement has been made, this effectively kills any chance of the movie being made, as the tale of Black Bolt, Medusa and the other primary Inhumans characters will be told on television a little under a year from now.
When Marvel announced their Phase Three slate in late 2014, Inhumans was originally supposed to be released on November 2, 2018. Then it was postponed until July 12, 2019, and by April 2016, it was taken off the schedule altogether. Until today, many fans believed Inhumans could be one of the leading movie staples in Phase Four, something which Marvel Studios president Kevin Feige expressed interest in. With this news, that's obviously not going to happen. Marvel isn't going to double dip with a property on both the big and small screens. On the one hand, no Inhumans movie is disappointing because the Inhuman family would benefit from the amazing effects provided by a gigantic blockbuster budget. On the other hand, this means we'll see their story unfold across more than two hours. It seems like an even tradeoff.
Unfortunately, this news could also mean even less cooperation between the movie and TV MCU divisions. Up until today, we've been under the assumption that Inhumans, despite being delayed, would be a movie, and since Agents of S.H.I.E.L.D. prominently features Inhumans, that big screen tale would almost certainly have to acknowledge their existence. The closest the MCU has come to this is when Captain America used the term "enhanced" in Avengers: Age of Ultron, but that's a general descriptor for any human in the MCU with superpowers. Now that the Inhumans movie has been scrapped in favor of featuring these characters on TV, that plan is dead as well. There's still a slight chance that one of the Phase Four movies could drop an Inhumans mention, but don't expect any of these altered beings to play a huge role on the big screen now until Marvel says otherwise.
So now that Inhumans will be a TV show, this leaves room for a new series to take its place in Phase Four. What could it be? Some that immediately spring to mind are Nova, Moon Knight, Secret Avengers and She-Hulk, but there are many other possibilities. Who knows, maybe by then Marvel and 20th Century Fox will have worked out a deal to bring the Fantastic Four into the MCU. Their sci-fi shenanigans would be an excellent substitute for the mutated, royal weirdness Inhumans would have offered. Marvel is holding off on announcing what the Phase Four slate will look like so as not to spoil fans, but with Inhumans off the table, we're all the more intrigued about what will fill those 2020 release dates and beyond.
What do you think of this Inhumans development? Are you glad Black Bolt and the gang are being brought to television, or would you rather these characters have starred in a movie? Which Marvel property would you like to see that Inhumans' spot on the Phase Four slate? Let us know in the comments below.
Your Daily Blend of Entertainment News
Connoisseur of Marvel, DC, Star Wars, John Wick, MonsterVerse and Doctor Who lore. He's aware he looks like Harry Potter and Clark Kent.