Guardians Of The Galaxy 2 Had No Backup Plan When It Came To Star-Lord's Father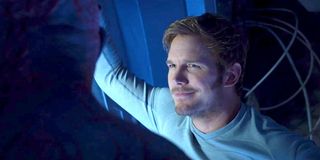 Ever since it was revealed that Marvel and 20th Century Fox traded characters for Deadpool and Guardians Of The Galaxy Vol. 2, movie fans have been looking to the future and imagining what further crossover deals could be made. But it turns out that if the deal to trade Negasonic Teenage Warhead for Ego The Living Planet hadn't been made, then James Gunn would have had some very big problems to contend with in the here and now, as he's now admitted that he didn't have a back-up plan for Guardians Of The Galaxy Vol. 2.
James Gunn took to Facebook to explain that he went full throttle into Star-Lord's father being Ego The Living Planet all without checking the fine print and finding out if Marvel Studios actually owned the character. They didn't, and there were quite a few sleepless nights until out of the blue, Fox came to them with their deal. James Gunn recalled:
I can already picture the dance of relief and celebration that James Gunn did when 20th Century Fox came to Marvel Studios with their deal. Considering the trailers for both Guardians Of The Galaxy and Guardians Of The Galaxy Vol. 2, it was probably to Blue Swede's "Hooked On A Feeling," as it seems he can't go 24 hours without listening to that song.
Because of this accord, James Gunn and Marvel were able to move ahead with their original plan for Guardians Of The Galaxy Vol. 2 and Kurt Russell was subsequently cast as Ego The Living Planet. However, while we'd all love to see Kurt Russell in the comic book form of the character, which looks like the below, the MCU will be doing something different with the character.
It has already been confirmed that Russell won't be forced to stretch his acting skills to the limit to portray a planet, and instead Ego will have a human form. Guardians Of The Galaxy Vol. 2 is still looking pretty impressive regardless, while Marvel and Fox's cordial agreement thankfully means that Gunn's original vision for the film has survived. You can check out our first, and so far only glimpse, of Guardians Of The Galaxy Vol. 2 below.
Guardians Of The Galaxy Vol. 2 isn't too far away from us now, as it will finally be released on May 5, 2017.
Your Daily Blend of Entertainment News