The Sesame Street Movie Just Took A Big Step Forward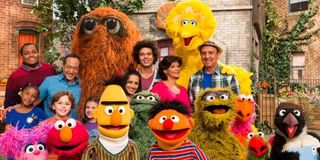 It turns out that Warner Bros. has a pretty good idea of how to get _Sesame Street _after all. That's because they've hired writers David Guion and Michael Handelman to oversee the brand new feature film based on the legendary educational kids show, and the duo are currently working on a treatment.
Deadline was the first to reveal that David Guion and Michael Handelman have been handed the responsibility of bringing Sesame Street to the big-screen. From the sound of things, though, Warner Bros. still aren't quite sure what angle they will take on Sesame Street, which is why they've only asked the pair to work on a treatment for now. They will be given guidance by Jesse Ehrman from Warner Bros, producers Shawn Levy, Michael Aguilar, and Guyman Casady, as well as the rightsholder for the franchise Sesame Workshop, while Mark Gordon is executive producing.
David Guion and Michael Handelman's back catalogue suggests that Warner Bros. are going to try and imitate the success that they had with The LEGO Movie back in 2014, which managed to squeeze in plenty of adult-pleasing jokes with a fast-paced, colorful, and relatively simple plot that kids of all ages can adore. Which, considering that The LEGO Movie was met with impressive reviews, went on to gross $469.2 million, and is set to be expanded into its own franchise with three spin-offs and a sequel already planned, is unsurprising.
Previously, David Guion and Michael Handelman have scribed the likes of Dinner For Schmucks, the 2010 comedy that starred Steve Carell and Paul Rudd, and their most recent script The Understudy is in development over at Sony and stars Will Ferrell as the world's greatest Shakespearean actor that has to dabble with a possibly murderous understudy. They've also worked on more child friendly fare in the non-too distant past, too, scribing Night At The Museum: Secret Of The Tomb, which just so happened to be directed by Shawn Levy.
If you somehow don't have a clue what Sesame Street is, then not only do I have to question how your parents raised you, but I also feel preposterously sorry for you. There's still time to right that wrong, though. First airing in November, 1969, Sesame Street is a mixture of educational content, sketch comedy, animation, and puppetry all set on the titular street that is populated by both humans and Muppets, which includes Big Bird, Oscar The Grouch, Bert & Ernie, Elmo, the Cookie Monster, Count Dracula, Grover, and many more. It also has the greatest opening theme song in the history of television, too:
This will be the third film inspired by the Sesame Street characters, following on from 1985's Sesame Street Presents: Follow That Bird and 1999's The Adventures Of Elmo In Grouchland. And if all goes according to plan, it will be far from the last one, too.
Your Daily Blend of Entertainment News