This Rotten Week: Predicting Allied, Bad Santa 2, Moana And Rules Don't Apply Reviews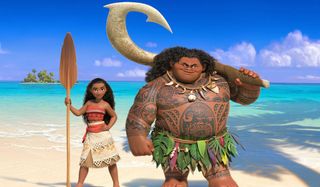 It's a huge week at the box office this time around with the Thanksgiving holiday coming down the pike. The studios want a little something for everyone, and we get that and more. There's World War II, deplorable jolly old men, Disney animation, and eccentric billionaires. We've got Allied, Bad Santa 2, Moana and Rules Don't Apply. It's gonna be a Rotten Week!
Just remember, I'm not reviewing these movies, but rather predicting where they'll end up on the Tomatometer. Let's take a look at This Rotten Week has to offer.
For as long as we live I suspect there will be movies coming out about World War II. Considering the scope and long-lasting effect of the war, there seem nearly endless stories from both the micro and macro levels. This week, we have Robert Zemeckis' Allied, which tells the story of Max Zatan (Brad Pitt), a CIA officer who becomes entangled begins a romance with a woman (Marion Cotillard)who may or may not be a spy. It appears to be a "who can you trust?" flick down to its core with the backdrop of the Nazis, evil and a world in the balance.
Director Robert Zemeckis obviously has success with these big budget-type stories that drill to a human level. He's given us Cast Away (90%), Contact (62%) Flight (72%) in the past and I suspect this one falls right in line with his previous work.
Walt Disney Animation is on an epic run of late. They are reaping dollars in the billions on their productions which also are crushing it with critics. In the last four years we've been treated to Zootopia (98%), Big Hero 6 (89%), Frozen (89%) and Wreck-It Ralph \(86%). _Frozen_ is obviously the gift which keeps giving and Moana joins it in the revamped "Disney Princess" genre.
This one follows the titular character, a chief's daughter in a Polynesian tribe who sets off on an adventure to find the demigod Maui and subsequently save her island. Critics flat out love the thing, and it's at 100% through 26 reviews right now. Considering the early love and the studio's A+ material year-after-year, it's hard to see it dropping much at all. I get a little pie in the sky with these perfect scores mostly because I want them to happen, but I'm a realistic. It'll drop a bit over the course of the week, but not much.
Considering it was about a lewd Santa (Billy Bob Thornton) who eschews most of the typical holiday cheer and replaces it with ripping people off and generaly being a bad dude, the original _Bad Santa _(78%) was a surprise critical hit more than a decade ago. But as we see with many a sequel, we probably could have left it at just one fresh movie and moved on to other holiday fare.
In Bad Santa 2, Billy Bob Thornton is back with a retread of the first story to, apparently, diminishing critical returns. Not a ton of reviews are in yet, but the initial ones are mostly on the rotten side. It makes sense as going back to the well on this story doesn't seem like it'd have a ton of upside. Director Mark Waters has a ton of wins on his IMDB page with Mean Girls (84%), Freaky Friday (88%) and The Spiderwick Chronicles (80%). This won't join that group, but is rather more likely going to fall in line with recent flicks like Vampire Academy (13%) and The Ghosts of Girlfriends Past (27%).
Rules Don't Apply is Warren Beatty's first directing gig since Bulworth (75%), in which he also starred. This latest has Beatty starring as Howard Hughes, the eccentric billionaire who wanted to make a big ass plane. We've been down the Hughes path before when Leonardo DiCaprio and Martin Scorsese brought us a biopic in The Aviator. This one appears to have a totally different tone (more comedic) and follows a contract actress and her driver as they (I think) fall in love while working for Hughes. Honestly, I was bored 45 seconds into the trailer. There was a lot of talk about conflicting sects of Christianity (he's Methodist, she's Baptist, ooh the drama) and some vanilla scenes of them talking about their differences. I checked out because really who cares?
That being said, the reviews are generally positive coming in with critics liking (not loving) Warren Beatty's turn as Howard Hughes, with the dude falling down into the darkness of dementia. That, by itself, might interesting. But the side love story between the driver and actress looks hokey at best.
The Rotten Watch had two wins last week and one miss, so we'll consider it overall a positive run. The one whiff was Fantastic Beasts and Where to Find Them (Predicted: 95% Actual: 76%), which fell quite a bit over the course of the week. It sat in the upper tiers for a while, but more and more critics came out who didn't love the pacing and thought it convoluted at times. That can happen when building a whole new world, but overall this is more than a positive showing for the franchise.
Meanwhile, Bleed for This (Predicted: 71% Actual: 63%) was a win and likely another sign that the boxing movie isn't going anywhere anytime soon. It really is nuts how many ringside flicks we are given considering the dwindling actual interest in the sport. But it must be a nostalgia thing (or boxers make for great underdog stories) because they get cranked out every year. Most critics though Miles Teller's turn as Vinny Paz worked, but they might just be growing weary of boxing flicks in general.
And finally, Edge of Seventeen (Predicted: 90% Actual: 95%) finished with an amazing score. Considering it's a teen, coming of age film, this is busting it totally out of the box. We don't get many films like this with an awkward female lead navigating her way through the pitfalls of high school, but director Kelly Fremon Craig and lead Hailey Steinfeld crushed it with critics.
Next time around we've got Incarnate. It's gonna be a Rotten Week!
Doug began writing for CinemaBlend back when Terminator: The Sarah Connor Chronicles actually existed. Since then he's been writing This Rotten Week, predicting RottenTomatoes scores for movies you don't even remember for the better part of a decade. He can be found re-watching The Office for the infinity time.
Your Daily Blend of Entertainment News
Thank you for signing up to CinemaBlend. You will receive a verification email shortly.
There was a problem. Please refresh the page and try again.