Why We're Starting To Worry About Zack Snyder's Justice League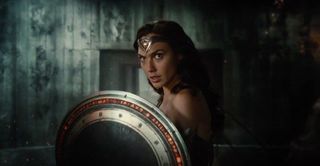 Regardless of whether or not the film actually turns out to be any good, Zack Snyder is poised to make history with Justice League. For the first time on the silver screen, DC's biggest heroes will unite and become a cohesive, evil-battling unit. It's a huge event for DC fans, but one that also has us somewhat concerned. Justice League is clearly going to be a massive movie, but now we're starting to worry that it's actually going to be way too big for its own good.
Slowly but surely, Zack Snyder's Justice League has evolved into a total behemoth. The DCEU started with Superman in Man of Steel, expanded to include Batman and Wonder Woman in Dawn of Justice, and will magnify even further to include Cyborg, Aquaman, The Flash, and the villainous Steppenwolf when Justice League finally debuts. On top of all that, new reports seem to also indicate that we may even see a Green Lantern cameo in the upcoming DC team-up film, further adding new layers of depth to the movie's roster.
As if that weren't enough, we also know that several supporting characters from each of the headlining heroes will also appear during the events of Justice League. From Vulko (Willem Dafoe) and Mera (Amber Heard), to Commissioner Gordon (JK Simmons), to Iris West (Kiersey Clemons), the film will touch on the supporting casts of every member of the JLA in order to sow the seeds for future solo movies. In layman's terms, this movie is currently poised to reach an unprecedented size.
Of course, I will fully acknowledge the fact that ensemble movies are nothing new, and they often work out quite well for studios. Look no further than J.J. Abrams' updates to both the Star Wars and Star Trek franchises for examples of how densely populated movies can resonate with audiences. However, the difference here lies in the fact that Justice League is a film that needs to provide equal time to its major heroes because each hero will go on to receive a solo film series. A story based on the Starship Enterprise will work if it places most of its focus on Spock, or Kirk, or even Bones, but a Justice League story really needs to balance the focus of its heroes in order to properly work.
This is ultimately a problem that Marvel never really had to face. By placing the origin stories for characters like Thor or Iron Man ahead of the major team-up movie, Marvel Studios had time to flesh out the major players in the Marvel Cinematic Universe. It's also a problem that the X-Men films never really faced, as those films are designed from the ground up to be ensemble adventures. DC is taking the opposite approach, and it seems very possible that the central DCEU heroes could suffer as a result.
These issues are further bolstered by the reputation of Justice League's director. Whether you love him or hate him as a filmmaker, it's hard to ignore the fact that Zack Snyder already has an inherent problem telling an economic story. From Watchmen to Batman V Superman: Dawn of Justice, the guy has become known for making incredibly long movies with very, very large ensembles that sometimes feel unwieldy. Considering all of the characters currently slated to appear in Justice League, it's becoming more and more likely that the film could potentially buckle under the weight of its massive plot and cast. It has us wondering if certain cameos and plot threads would be better served if Snyder held off and let another director tackle them in a future DC movie.
What're your thoughts on the current state of Zack Snyder's Justice League? Do you think the project is in good hands, or is our concern valid? Let us know what you think in the comments section below! Justice League will hit theaters on November 17, 2017.
Check the trailer for Justice League on the next page!
Your Daily Blend of Entertainment News
Originally from Connecticut, Conner grew up in San Diego and graduated from Chapman University in 2014. He now lives in Los Angeles working in and around the entertainment industry and can mostly be found binging horror movies and chugging coffee.