Why An Obi-Wan Kenobi Star Wars Spinoff Movie Possibly Hasn't Been Made Yet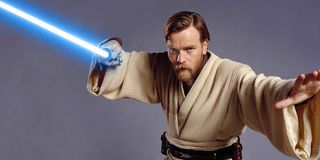 Obi-Wan Kenobi is one of the most integral characters in the Star Wars universe. His older, Alec Guiness-y self mentored Luke Skywalker both in life and from the great beyond during the Original Trilogy, and the Prequel Trilogy showed both his rise from Padawan to Jedi Master and how his relationship with Anakin Skywalker changed over 13 years. With Lucasfilm now releasing self-contained Anthology movies alongside the main Star Wars movies, many fans have suggested that Ewan McGregor be brought back to play Obi-Wan in an adventure set sometime between Revenge of the Sith and A New Hope. One reason such a project hasn't been announced yet may be because the studio has plans for the Jedi in an upcoming movie.
While appearing on the Rebel Force Radio podcast (via StarWarsNewsNet), Entertainment Weekly writer Anthony Breznican mentioned that he's heard that one of the upcoming installments of the current Star Wars trilogy, i.e. Episode VIII or Episode IX, may use the Jedi Master in some form or fashion. He said:
Keep in mind that Anthony Breznican's speculation is in no way official, and even it was, we wouldn't hear anything until presumably before Episode IX is released; maybe around the time the Han Solo spinoff is released at the earliest. Breznican also later mentioned that there's a chance there will be a reference to Obi-Wan Kenobi in one of the upcoming Star Wars main movies, namely how he could be connected to Rey. Once that trilogy is over, then Lucasfilm might circle back to the beloved wise Jedi and give him a spinoff movie that would weave in this new information.
Interestingly enough, Obi-Wan Kenobi already plays a small, yet curious, role in the current Star Wars trilogy. If you listen closely during The Force Awakens, Obi-Wan is heard during Rey's Force vision, with Alec Guiness' iteration saying, "Rey!" and Ewan McGregor's iteration saying, "These are your first steps." This implies that he is directly or indirectly tied to the girl, and if that's the case, one would imagine such a tie would be alluded to or even play a direct part in his adventure. The soonest we could an Obi-Wan Kenobi movie released is in 2020, a year after Episode IX's release. That would be the prime time to hop on the project since Ewan McGregor would be just the right age to don the Jedi robes again.
Are you game for an Obi-Wan Kenobi movie or would you rather Lucasfilm go elsewhere for its third Star Wars Anthology spinoff? Let us know in the comments below.
Your Daily Blend of Entertainment News
Connoisseur of Marvel, DC, Star Wars, John Wick, MonsterVerse and Doctor Who lore. He's aware he looks like Harry Potter and Clark Kent.