The Lego Batman Movie Found Its Two-Face, And We Love It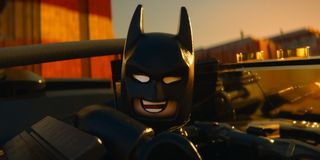 The Lego Batman Movie has announced that Billy Dee Williams will reprise his role as Harvey Dent/Two-Face in the animated spin-off, a part that the legendary actor portrayed in Tim Burton's Batman back in 1989. Well, nearly. That's because Billy Dee Williams' Harvey Dent never actually manifested into Two-Face in Batman, and he was ultimately replaced as the character by Tommy Lee Jones for Batman Forever.
Chris McKay, who is making his feature film directorial debut with The Lego Batman Movie, made this revelation on Twitter. After being asked outright, "Please tell me Billy Dee Williams voices Two Face?" Chris McKay didn't dare beat around the bush, as he responded:
At the moment we're not exactly sure quite how big Two Face's role in The Lego Batman Movie will be, but at least this time Chris McKay has already confirmed that Billy Dee Williams will get the full chance to portray Two Face. Especially since he looked so spiffing just as Harvey Dent. I mean, just look at him.
There's every chance that Lego Batman Movie might poke fun at the decision not to continue with Billy Dee Williams as Two Face in the Batman franchise. Well, at least that's the hope, because it would be a bit of a waste if they didn't. Billy Dee Williams previously opened up at the 2013 Wizard World Nashville Comic Con (via Comic Book) about not reprising the role for Batman Forever, admitting that he'd originally hoped that he would. However, once Tim Burton dropped out of the film and was replaced by Joel Schumacher the decision was made to take it in a "different direction."
For a while there was an internet rumor that, despite being dropped as Harvey Dent in favor of Tommy Lee Jones, Billy Dee Williams still was actually paid for working on Batman Forever, as his original contract had guaranteed him the chance to do so. But during the same convention, Williams debunked this speculation, insisting that he only had a "one picture deal for Batman."
There's already quite a bit of hope surrounding The Lego Batman Movie, most of which comes off the back of the huge success of 2014's The Lego Movie. But it's also helped that as well as Will Arnett returning as the animated Caped Crusader, and the cast has impressively been rounded off by Zach Galifianakis as The Joker, Michael Cera as Robin, Rosario Dawson as Batgirl, Ralph Fiennes as Alfred Pennyworth, Jenny Slate as Harley Quinn, and now Billy Dee Williams as Two Face. You can check out the Comic Con trailer for The Lego Batman Movie, below.
The jury is still out on Mariah Carey as Mayor McCaskill, though. We'll get to if she and the film can deliver the goods when The Lego Batman Movie is released on February 10, 2017.
Your Daily Blend of Entertainment News