Indiana Jones 5 Isn't As Far Along As We Thought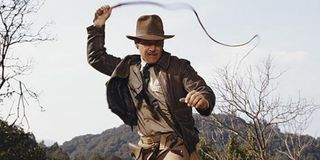 Most movie fans are waiting with bated breath for Indiana Jones 5. Sadly, they're going to keep waiting for a while, because not only is the film itself still over two and a half years away, it has now even been revealed that the script isn't quite as far along as we'd originally hoped. That's according to producer Frank Marshall, who insisted that Indiana Jones 5's script is still in the "thinking" period.
Frank Marshall, who has worked as an executive producer on all four previous installments of the Indiana Jones franchise, made this rather disappointing admission to Fandango. During their discussion about the DVD/Blu-ray release of Jason Bourne on December 6, the chat briefly turned to Indiana Jones 5 and where exactly David Koepp is at with the script. This provoked Frank Marshall to respond with:
At the moment, there's nothing much to worry about. With Indiana Jones due out on July 19, 2019, production on the blockbuster is only likely to commence towards the end of 2017 and then into 2018, allowing 12 months for pre-production. Plus, considering how convoluted and ultimately dull the screenplay for Indiana Jones And The Crystal Skull was, maybe it should come as something of a relief that they're taking their time to think over the script.
Another topic that was raised by Fandango during their chat with Frank Marshall was whether or not Karen Allen's Marion Jones, formerly Ravenwood, would return to the fold. Once again, Frank Marshall was non-committal, admitting that he doesn't become involved with these decisions until the "idea and the plan of where they want to go" has been created.
The involvement of both Karen Allen and Shia LaBeouf, who portrayed Mutt Williams (born Henry Walton Jones III) in Indiana Jones And The Crystal Skull, is one of the big questions that hangs over the upcoming fifth installment to the series. By the end of Crystal Skull, they looked like quite the happy family, as Indiana and Marion finally wed after years of separation, with Mutt beaming at their side and even getting himself a fancy new hat. It was a sight for sore eyes, and one you can relive by watching below.
While Shia LaBeouf seemed like the perfect young actor to take the Indiana Jones franchise forward back in 2008, his career path over recent years has taken him down a different, but nevertheless still exciting, trajectory. But after Warner Bros decided that Shia LaBeouf was too big of a risk for Suicide Squad, it's unlikely that the much more reserved Disney will want to progress with him. Whether that would affect the involvement of Karen Allen remains to be seen. From the sound of things, we're going to have to wait quite some time until we get definitive answers on the matter, too.
Your Daily Blend of Entertainment News