This Rotten Week: Predicting Office Christmas Party Reviews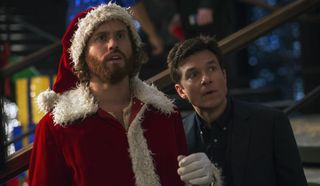 There's only one movie on the docket this week, but it looks like it may be bringing some holiday cheer to the box office. Get ready for Office Christmas Party. It's gonna be a Rotten Week!
Just remember, I'm not reviewing these movies, but rather predicting where they'll end up on the Tomatometer. Let's take a look at This Rotten Week has to offer.
It isn't often I laugh out loud during a trailer, but Office Christmas Party looks surprisingly hilarious.The cast, which includes the likes of Jason Bateman, T.J. Miller, and Kate McKinnon, is pure comedy gold through and through, with the story of a company holiday party gone way, way, way out of control. There's crap flying out of windows, banging in the drugstore parking lot, plenty of drugs, a reindeer drinking from a toilet and that's likely just the stuff they could show to a mass audience. I suspect it gets a lot more off the rails.
Directing team Will Speck and Josh Gordon have given us The Switch (51%) and Blades of Glory (69%). They're going the rated-R path here which typically is a good thing for comedies. After all, they don't need to pull any punches. That looks like the case with Office Christmas Party, and I suspect there are plenty of laughs in the ever-devolving scenario of a party gone nuts. I'm in.
Like this week, there was only one movie last week as well, and I just missed on my prediction. I thought Incarnate (Predicted: 9% Actual: 21%) looked like a piece of epic trash. Unfortunately, I was wrong on the "epic" part of it. Instead, it was just garden variety trash. Critics hated it, and that wasn't tough to figure just looking at the trailer. It's just another in a long line of ham-fisted horror plots involving some demonized kid/adult/pet/whatever playing on the lowest common denominator of cheap scares. Again, it didn't finish in the single digits like I suspected, but the tenor of the reviews were right in line with what I thought. We'll forget it was made before you even get to the end of this article.
Next time around we've got a seriously huge one with Collateral Beauty and of course Rogue One: A Star Wars Story. It's gonna be a Rotten Week!
Doug began writing for CinemaBlend back when Terminator: The Sarah Connor Chronicles actually existed. Since then he's been writing This Rotten Week, predicting RottenTomatoes scores for movies you don't even remember for the better part of a decade. He can be found re-watching The Office for the infinity time.
Your Daily Blend of Entertainment News
Thank you for signing up to CinemaBlend. You will receive a verification email shortly.
There was a problem. Please refresh the page and try again.