Why We're Starting To Worry About DC's The Flash Movie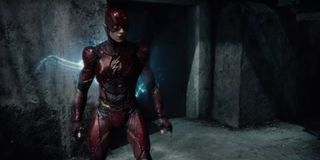 Slowly but surely, the DCEU has begun to take shape, but it has been far from a smooth process. Between a series of critical misfires, and some genuine behind the scenes tension, the silver screen DC cinematic universe has stumbled quite a few times -- especially compared to the competition. Now we're concerned that Barry Allen may be the next casualty. No upcoming DC movie has epitomized this universe's turbulent nature more than The Flash, and we're starting to genuinely worry about its future.
It's no secret that The Flash solo movie has generally been plagued with controversy from the very beginning. Initially, concerns were subjective. Some fans who preferred the Barry Allen on The CW's hit TV show didn't take kindly to Ezra Miller's casting as the Scarlet Speedster, and that negativity pretty much set the tone of the entire affair. The development of The Flash next took major a hit when Seth Grahame-Smith dropped out as the film's director in April, but seemingly got back on track when Dope director, Rick Fumiyama, stepped in as his replacement. However, that progress was undone this fall when Fumiyama similarly left the project due to creative differences with DC. That's pretty much where we last left The Flash: adrift without a director at the helm.
Let me be clear, a movie losing its director is not inherently a death sentence. Deadpool 2 lost Tim Miller, but Ryan Reynolds and 20th Century Fox were able to work quickly and tap John Wick's David Leitch to fill the void within a relatively short period of time. However, this situation seems different because The Flash simply cannot seem to hang on to a director, for whatever the reason. It's been almost six weeks since Rick Fumiyama left the project, and we've heard little about any possible filmmakers who could conceivably take his place. That's a concern.
These problems are compounded further by the nature of the DC movie slate. The Flash is currently set to debut in theaters on March 18, 2018, which is less than a year and a half away. I'm aware that The Flash is a movie about a speedster, but with each passing day, it becomes harder and harder to believe that DC will move fast enough to have the film ready on time. It's going to be the first solo DC film to debut after the events of Zack Snyder's Justice League (a film we're similarly concerned about), and as such it needs a director.
So what's the solution? Up until recently, we would've suggested that DC move up Aquaman (which actually has a director in the form of James Wan) but that no longer looks like a viable option. Aquaman's solo movie was just pushed back to hit theaters on October 5, 2018, and fast-tracking Ben Affleck's Batman movie would be a massive, nearly impossible undertaking at this point. Realistically there doesn't seem to be a single DC film that could replace The Flash right now, which means Barry Allen's solo adventure needs either a miracle or a delay in order to save it.
As a die-hard DC fan, I continue to remain hopeful that The Flash will exceed my expectations. However, the evidence continues to mount that the film may be in serious trouble.
What are your thoughts on this issue? Are you concerned about The Flash, or do you think we're worrying over nothing? Let us know what you think in the comments section below!
Originally from Connecticut, Conner grew up in San Diego and graduated from Chapman University in 2014. He now lives in Los Angeles working in and around the entertainment industry and can mostly be found binging horror movies and chugging coffee.
Your Daily Blend of Entertainment News
Thank you for signing up to CinemaBlend. You will receive a verification email shortly.
There was a problem. Please refresh the page and try again.