Why You Should Shut Up About The Movie Flash And Give Ezra Miller A Chance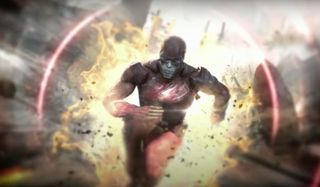 In October 2014, DC Comics and Warner Bros announced their official slate of movies between 2016 and 2020 (which has since seen two additions). Along with the movies announcements came some castings, including Ezra Miller being tapped to play Barry Allen, a.k.a. The Flash. This news came almost a year after Grant Gustin debuted as Barry on Arrow, and only a week after The Flash TV series had debuted on The CW. It's been over a year and a half since Miller's casting was announced, and yet there still seem to be a lot of people who are giving him a hard time, whether it's because he doesn't look like Barry Allen in the comics (let's not forget Gustin doesn't either) or they're still upset that the movie and TV universes aren't connected. However, it would be a mistake to completely dismiss him.
Miller cameoed in Batman v Superman: Dawn of Justice earlier this year, but his appearance (both in vision form and over security footage) wasn't enough to get a sense of what he's bringing to the DCEU. Fortunately, last week's massive Justice League news drop included some interesting tidbits about Flash's role, namely his first meeting with Batman and hanging out with the other heroes on top of the GCPD rooftop. These new details paint the clearest picture of the DCEU's Flash yet, providing extra hope for Miller's iteration. There's still almost another year and a half until Justice League arrives, but we've provided three main reasons why you should give Ezra Miller's version a chance, whether you're a passionate fan of The Flash TV series or are new to the Scarlet Speedster.
His Acting Skills
Ezra Miller may be young, but he's already proven himself to be a talented actor for nearly a decade. In recent years, he's appeared in movies like We Need to Talk About Kevin, Madame Bovary and The Stanford Prison Experiment, as well as TV shows like Californication and Royal Pains. His performance as Patrick in The Perks of Being a Wallflower earned him numerous awards, while his appearance in Trainwreck resulted in one of the latter half of the movie's funnier scenes. He'll be seen this November in Fantastic Beasts and Where to Find Them, and with Justice League and The Flash on the way, he's clearly one of Hollywood's rising stars. Heck, he might even win an Oscar in the future.
He's proven himself to be a good actor, so it's not like they just hired him because he has a handsome face. Sure, his looks may not match Barry Allen's in the comics, but looking like a character doesn't always guarantee success. As long as Miller brings his acting A-game, moviegoers can look forward to a great performance, which obviously is one of the cornerstones of a good movie. That brings us to the next entry.
The Faithfulness To The Character
Before last week's Justice League revelations, there wasn't much information about the first theatrical version of The Flash. Other than vague comments from Ezra Miller himself or creative minds like Geoff Johns, we only saw him twice briefly in Batman v Superman: Dawn of Justice. He first appeared from the future to deliver a message to Bruce Wayne (admittedly, his fashion choice was definitely questionable), and he was later seen on security footage quickly preventing a convenience store robbery. That's not a lot to work with, but thankfully, the descriptions of two of his Justice League scenes hint that fans can look forward to Miller's Barry Allen's personality closely matching how he is in the comics.
Whether you liked Man of Steel and Batman v Superman: Dawn of Justice or not, both were unapologetically dark movies, and Justice League will remedy that somewhat. Flash (as well as Cyborg) has been said to be the movie's comedic relief, and this is apparent by his calm reaction to Bruce Wayne in his apartment, cracking a few jokes/quips (like wanting to keep a Batarang) and eagerly joining the Justice League. This lighthearted nature was also "seen" when he briefly chatted with James Gordon before running off with the other heroes. That's Barry Allen's essence. In the midst of tragedy and ugliness, he retains an optimistic outlook, and that's what the DCEU needs right now. He'll bring that lightness to Justice League and his own movie, effectively serving as this cinematic universe's "heart," or at minimum one of its shining protagonists. Oh, and his forensic background has also been retained. Yay!
No Restrictions From The TV Show
This may not sound like a positive reason, but hear me out. Many folks are still displeased with Ezra Miller being cast as Barry Allen because there's already a live action Flash on TV. There's no arguing that CW's The Flash is one of the most popular superhero TV shows right now, and Gustin's performance has earned a lot of praise. So why get invested in another live action Fastest Man Alive when there's already one on television. Easy: because he's different. Let's not forget that this isn't even the first time two versions of the same character are seen in the movies and television at the same time. Smallville was on when Superman Returns came out in 2006, giving fans two versions of Clark Kent. Soon, there will also be two versions of the Man of Steel in the movies and the Supergirl TV series. Much like several comic books starring the same character, giving fans multiple versions of a hero in live action allows them to decide which they like best, or just appreciate both.
As far as the Flash TV series is concerned, that's already built a heavy mythology over just two seasons. It's been great to watch, but as we've seen with Agents of S.H.I.E.L.D. in the MCU, it's not always an even trade when TV shows connect to movies in a cinematic universe. By being separate from the CW universe, not only does this allow Justice League and The Flash movie to build its own stories, but it also gives Miller freedom to do what he wants with the character. Again, we expect that his Barry Allen will be quite faithful, but he's not obligated to act exactly the same way as the TV version. This is much more freeing for Miller, giving him room to add his own touches to the character. Remember, we've had various movie versions of Batman over the years, most being different from one another, yet still undeniably Batman. This is the same scenario Flash will soon face, and it could turn out great!
Connoisseur of Marvel, DC, Star Wars, John Wick, MonsterVerse and Doctor Who lore. He's aware he looks like Harry Potter and Clark Kent.
Your Daily Blend of Entertainment News
Thank you for signing up to CinemaBlend. You will receive a verification email shortly.
There was a problem. Please refresh the page and try again.