Was The Golden Globes Right To Snub Finding Dory?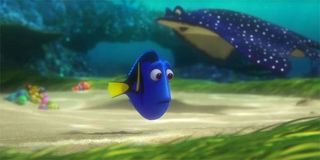 The Golden Globe nominations were released this morning and while many of them were expected, there were certainly a few surprises, including one very successful fish that was ignored. Amongst the nominees for Best Animated Movie, we saw the one-two punch of Disney with Zootopia and Moana but Pixar's entry this year, Finding Dory did not make the shortlist. This means that one of the most successful movies of the year will go unrecognized. Does this make any sense?
Finding Dory is, thus far, the domestic box office champ, and it's number two in the world for 2016, behind only Captain America: Civil War. It's clear that movie fans love this movie, so why is it not getting any love from the Golden Globes? While it's not uncommon for financially successful movies and award-winning movies to generally fall into two different camps, the Golden Globes is one place where that isn't always the case. Deadpool was nominated today. Need I say more?
Of course, while Finding Dory is certainly a good movie, is it really a great movie? Zootopia absolutely amazed both fans and critics earlier this year with its unexpectedly strong message inside a talking animal movie. Moana and Kubo and the Two Strings are two of the most beautifully animated movies from any recent year. These are films that have really stretched what animation can do and how the medium can be used. Finding Dory may have made a lot of people tear up, but Pixar has been doing that for years. It isn't necessarily a surprise. It's hard to argue that Finding Dory did anything unique. They made a great movie, there's no question about that, but so did a lot of people.
In addition, you do also have the fact that if you had included Finding Dory in the list, you run the risk of giving Disney three of the five slots for Best Animated Movie. While there's certainly a reason that the Disney name is synonymous with the medium, it's nice to give others some credit too. Kubo and the Two Strings clearly belongs on this list and based on the early response, Sing does sound like a superior option to Illumination's other entry this year, The Secret Life of Pets. Audiences in North America may not be familiar with My Life as a Zucchini but that doesn't mean that it's not a worthy entry to the list. We can guess that a lesser known film like that might have been the one that was cut if Finding Dory had made the list. Now that it's there, more people know it exists and maybe more people will now go find out if it's a good movie or not.
Nobody would have been surprised to see Finding Dory on the Golden Globe list today and few would have argued that it didn't deserve to be there, but sometimes making a really good and entertaining movie just isn't good enough. This was a really impressive year for animation from beginning to end and clearly, some deserving films were not going to make the cut. There are certainly movies here that would have been bigger snubs had they not been included.
Do you think Finding Dory should have been nominated? Let us know your thoughts in the comments below.
CinemaBlend's resident theme park junkie and amateur Disney historian. Armchair Imagineer. Epcot Stan. Future Club 33 Member.
Your Daily Blend of Entertainment News
Thank you for signing up to CinemaBlend. You will receive a verification email shortly.
There was a problem. Please refresh the page and try again.