Watch Woody Harrelson Totally Lose It In These Edge Of Seventeen Bloopers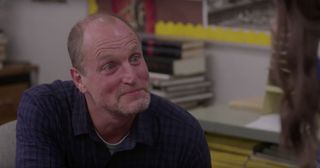 Just in case you don't already know, we absolutely love The Edge of Seventeen. Kelly Fremon Craig's coming of age comedy hits pretty much every emotional beat in the book, and delivers insane amounts of laughs every step of the way. Now it seems that the film was as fun to make as it was to watch. A blooper reel from the film featuring Woody Harrelson and Hailee Steinfeld has just debuted online, and it's an absolute riot. Check it out below to see for yourself.
Hailee Steinfeld recently made an appearance on The Tonight Show Starring Jimmy Fallon to promote The Edge of Seventeen, and premiered an awesome outtake in the process. Despite the fact that the scene in question is actually one of the more subtle and dryly humorous sequences in the movie, Steinfeld and Harrelson barely manage to keep it together and get their lines out. By the end of the scene, they cannot even look at one another without bursting into laughter.
As The Edge of Seventeen slowly but surely comes to the end of its theatrical run, the blooper reel has us incredibly hopeful about what the DVD special features may possibly have in store for fans of the film. If Steinfeld and Harrelson laughed this much during a single scene, then a compilation of the bloopers from the rest of the movie could likely be absolutely hilarious. After all, if you know anything about us here at CinemaBlend, then you likely know that we love our blooper reels.
This is a phenomenal outtake, and it really gets to the core of what we love so much about The Edge of Seventeen. It's a beautifully directed and wonderfully written film, but the chemistry of its stars is the factor that genuinely elevates it above the comedic competition. Honestly, if someone wants to make a movie that's simply a two-hour dialogue scene between Hailee Steinfeld and Woody Harrelson, I will gladly pay the full admission fee. Based upon this video, I will even stay in my seat during the credits to watch a full blooper reel, as well.
Of course, I would also like to take this moment to remind many of you that The Edge of Seventeen is one of the best movies in recent memory that seemingly nobody has seen. Against a $9 million budget, the film has only grossed roughly $13 million throughout its theatrical run. Spoiler alert: that doesn't qualify it as a box office smash. You would be wise to do yourself a favor and see it in theaters while you still have the chance.
As always, CinemaBlend will bring you any and all relevant details related to The Edge of Seventeen as new information becomes available to us. Kelly Fremon Craig's amazing John Hughes-esque dramedy is still in theaters, so make sure to check it out while you still can!
Originally from Connecticut, Conner grew up in San Diego and graduated from Chapman University in 2014. He now lives in Los Angeles working in and around the entertainment industry and can mostly be found binging horror movies and chugging coffee.
Your Daily Blend of Entertainment News
Thank you for signing up to CinemaBlend. You will receive a verification email shortly.
There was a problem. Please refresh the page and try again.