Transformers 5 Poster Suggests A Very Dark Turn For Optimus Prime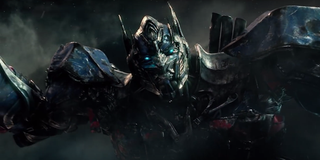 Optimus Prime is usually the first being that comes to mind when you think of the Autobots in the Transformers series. He's led the benevolent robots in multiple iterations of the franchise, and he's generally considered to be noble and heroic. Well, Transformers: The Last Knight looks like it's going to flip all that around, as last week's trailer suggested that Optimus Prime will turn to the dark side. Now a new poster further implies that will be the case.
If Optimus Prime's ominous stance and the crashing...whatever that thing is in the background wasn't gloomy enough for you, it's the words at the top of this new poster for Transformers: The Last Knight that cements the dark feel of this setting: "Rethink your heroes." Paramount is really driving home the point that the Optimus will see next year isn't the same Autobot we've watched save the day over four movies so far. It looks like he'll be a much more sinister figure. By the way, it is just me or is Optimus' sword almost as tall as him?
The last time we saw Optimus Prime in Transformers: Age of Extinction, he was heading out into space with the Seed (which can terraform a planet) and told the device's creators, who are actually called The Creators, that he was coming for them. Now he's back on Earth, but his return wasn't quite as graceful as his departure, as he was seen in The Last Knight trailer floating around frozen in the vacuum of space. He won't stay that way for long, but maybe that would have been better, as later in the trailer, we see Optimus appear to stab Bumblebee while Mark Wahlberg's Cade Yeager watches. And sorry, Optimus, but saying "Forgive me" as you commits the shocking act doesn't make it any better.
It's possible that this Transformers: The Last Knight marketing is a misdirect, and Optimus Prime won't end up being the bad guy he's being positioned as right now. Maybe he's being controlled or forced to act like a villain in order to accomplish a secret task. That said, the evidence right now isn't stacking up in Optimus' favor, and even if he starts acting "good" again, it's going to take a while to earn back the trust of his allies, both Autobot and human. It's fortunate, then, that Transformers 6 is already set for release, so he'll have more time to make amends. And for those of you concerned about Bumblebee's ultimate fate, since he's getting his own spinoff movie, it stands to reason any damage inflicted by Optimus either won't be permanent or will be easily fixed.
Transformers: The Last Knight will be released in theaters on June 23, 2017.
Your Daily Blend of Entertainment News
Connoisseur of Marvel, DC, Star Wars, John Wick, MonsterVerse and Doctor Who lore. He's aware he looks like Harry Potter and Clark Kent.