The Classic Spider-Man Villain We'll Probably Never See In The MCU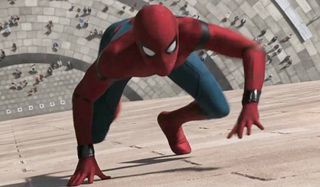 Marvel is enjoying a best-of-both-worlds situation at the moment. The studio is crushing it in theaters, earning fans (and cash) with theatrical winners such as Captain America: Civil War and Doctor Strange. And on the television side, the deal with Netflix is allowing Marvel to develop smaller-scale superheroes that are building toward their own Avengers-style team up, The Defenders. But when a villain crushes it on the Netflix side, it sadly means that we won't see them leap to the MCU, which is why Vincent D'Onofrio warns fans not to expect his Kingpin to pop up in a Spider-Man movie any time soon:
Vincent D'Onofrio, who has played Wilson 'The Kingpin" Fisk on two seasons of Daredevil, held an impromptu Twitter Q-and-A the other day where he fielded numerous questions about his Marvel TV work. And because Sony and Marvel have struck a deal regarding Spider-Man in the MCU, D'Onofrio was asked if we'd ever see his Kingpin in the MCU. He says no, but not because of any complicated deals between the movies and TV sides of Marvel (though, those complications DO exist). Instead, he says that there are too many characters on the film side to properly service, so we're more likely to keep Kingpin on the TV end of the equation, even though he'd be PERFECT for a Spider-Man story.
Why? Because what Sony and Marvel are trying to do with Peter Parker in the MCU is keep his stories smaller in scale. Peter (Tom Holland) is a high school student in Spider-Man: Homecoming, inexperienced at being a superhero and unable to join The Avengers -- he's being cock-blocked by Tony Stark (Robert Downey Jr.) at every turn. Pitting Spider-Man against a homegrown threat like Kingpin would be an excellent counterbalance to the large-scale, galactic threats that are coming in the Avengers: Infinity War storyline. We know that Spider-Man: Homecoming is getting a sequel. Vincent D'Onofrio's Kingpin would be ideal as a foil. Maybe even with a Daredevil team up, bringing Charlie Cox over to the MCU (finally)!!
Alas, it doesn't sound likely. I get it. And the good news is, Spider-Man still has a plethora of outstanding villains in his Rogues Gallery from which to choose, and several of them -- from Kraven the Hunter to Mysterio -- have yet to show up in any of the previous Spider-Man movies. Also, you KNOW that Tom Holland is going to have to go through his own version of The Green Goblin. Because you can't have a Spider-Man movie without eventually bringing in some form of Goblin.
For now, Spider-Man: Homecoming will introduce MCU versions of The Vulture and Shocker to Spider-Man's universe, and Tom Holland has suggested on record that they already are discussing possibilities for the next villain. We'll see how this all shakes out when Homecoming opens in theaters on July 7.
Up next: The Spider-Man: Homecoming Trailer Is Here, And It's Tremendous
Managing Director at CinemaBlend. ReelBlend cohost. A movie junkie who's Infatuated with comic-book films. Helped get the Snyder Cut released, then wrote a book about it.