Two Classic Films That Inspired A Monster Calls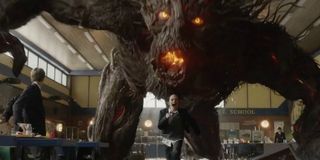 A Monster Calls is all set to provide a welcome alternative to the feast of movies that are being released this Christmas. Despite the competition of Rogue One: A Star Wars, Passengers, Live By Night, Silence, and Assassin's Creed, A Monster Calls' fantastical tale of a child being visited by a monster to help him grieve his dying mother has all the hallmarks of a cult classic. J.A. Bayona has admitted that the main appeal for him to direct A Monster Calls was that it was such a rare cinematic offering in the modern climate, and because it actually reminded him of two movies he adores, E.T: The Extra Terrestrial and The Neverending Story.
J.A. Bayona made this admission to me when I sat down to talk to the filmmaker about A Monster Calls earlier this month in New York City. The Spanish director, who previously oversaw The Orphanage and The Impossible and will oversee Jurassic World 2 next, also confessed that he was especially drawn to A Monster Calls because of how it dealt with complex childhood emotions. J.A. Bayona explained,
J.A. Bayona appears to have matched the above efforts, as A Monster Calls has been receiving superlatives ever since it premiered at the Toronto International Film Festival back in September, while it has already picked up a number of award nominations thanks to the performances of Lewis MacDougall, Felicity Jones, and Sigourney Weaver, and because of its visual effects, too.
A Monster Calls tells the story of Conor O'Malley (Lewis MacDougall), a young boy who's trying to deal with the terminal illness of his mother (Felicity Jones), constant attacks from school bully Harry (James Melville), the long absence and then sporadic appearances of his father (Toby Kebbell), and the fact that he has to move in with his misanthropic grandmother (Sigourney Weaver). One night Conor meets a "monster" (Liam Neeson), who has taken the form of a giant yew tree, and starts to fix Conor's unhappy life by telling him three stories
You can check out the trailer for A Monster Calls by clicking below.
Meanwhile, you can also check out a snippet of my conversation with J.A. Bayona about A Monster Calls by watching the video below.
A Monster Calls will be in cinemas from December 23.
Your Daily Blend of Entertainment News
Thank you for signing up to CinemaBlend. You will receive a verification email shortly.
There was a problem. Please refresh the page and try again.