6 Star Wars Stories Fans Should Find After Rogue One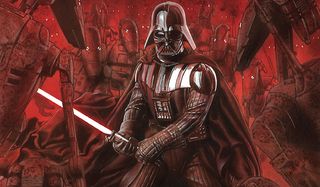 Warning: spoilers for Rogue One: A Star Wars Story are ahead!
Rogue One: A Star Wars Story has been playing in theaters across the globe for a week now, and many moviegoers, whether they're longtime Star Wars fans or casual viewers looking for a fun way to spend two hours, have seen it. If you count yourself among that bunch, you know that the movie's ending leads directly into A New Hope, and there's absolutely no way there will ever be a sequel. Fortunately, just because these characters' tales are concluded doesn't mean there aren't others tales from a galaxy far, far away that won't catch your interest.
Whether you're looking to keep that Rogue One excitement going or just want more Star Wars material to tide you over until Episode VIII is released, here are the stories you should read or watch after seeing Rogue One. Full disclosure, all these entries are from the official Star Wars canon, so there won't be any tales from the Legends continuity listed.
Catalyst: A Rogue One Novel
If you're looking for a story that's directly connects to Rogue One, you won't find anything more fitting than Catalyst: A Rogue One Novel. Beginning during the Clone Wars and ending only a couple years or so before Rogue One kicks off, this book's follows Galen Erso's research into kyber crystals and how to effectively control their energy purely through science. Orson Krennic, Galen's former classmate and rising star in the Republic/soon-to-be Empire, recruits Galen to join his special government project, making him believe it's for a benevolent cause, but we all know that isn't the case. As for Lyra, while she was quickly eliminated in Rogue One, she's a fully-fleshed out character in Catalyst, as we learn about her archaeological background, how perfectly she and Galen fit together and how she (and eventually Galen) slowly grew to realize that Orson and the Empire are not to be trusted. Also, near the end of the story, you find out how Saw Gerrera became the Ersos' protector.
Star Wars Rebels
Star Wars: The Force Awakens was the first move to kick off the Disney era of Star Wars, but since October 2014, Star Wars Rebels has been providing fans young and old with adventures that took place during the Galactic Civil War on the small screen. The main players are Kanan, one of the few Jedi who survived Order 66; Hera, captain of The Ghost; Zeb, a powerful warrior and one of the last of his species; Sabine, a Mandalorian weapons expert with a talent for graffiti art; and Ezra, a teen with Force abilities who the crew come across in the first episode. The TV series begins five years before A New Hope, but given how fast events are progressing, it's inevitable that it will eventually catch up with Rogue One. In fact, there are several references to Rebels in Rogue One, including The Ghost popping up and a General Syndulla being mentioned. As a bonus, if you find yourself enjoying Star Wars Rebels, check out the book Star Wars: A New Dawn, which reveals how Kanan and Hera first met.
Lords of the Sith
Darth Vader has been one of cinema's greatest villains for nearly four decades, but Rogue One's final minutes showed him at his most feared and ruthless, lightsaber drawn and unstoppable to any normal (i.e. not Force-sensitive) creature that stands in his way. If you're looking for more of that Vader, check out the novel Lords of the Sith, which takes place a few years after the Empire's formation. When a resistance movement led by Cham Syndulla (a character from Star Wars: The Clone Wars and father of Star Wars Rebels' Hera) starts causing trouble for the Imperial forces on Ryloth, Emperor Palpatine and Darth Vader travel there to ensure the planet is taken back. However, an ambush results in their shuttle crashing to the planet. Cut off from their forces, Palpatine and Vader have to rely on the dark side abilities to survive and deal with these insurgents. This book also delves into how the Sith Lords' relationship is precariously balanced at this point in time, as Palpatine is skeptical about whether Vader is fully with him or preparing to strike him down.
Tarkin
Even though the digital effects used to make Guy Henry look like Peter Cushing were a little too uncanny valley, it was still great to see the sinister Wilhuff Tarkin back on the big screen in Rogue One. Obviously Star Wars fans know Tarkin best from A New Hope, and in recent years, The Clone Wars and Rebels have done satisfiable work fleshing out his character. That being said, if you want to learn about Tarkin's past and understand what makes him tick, then his eponymous novel is a must-read. After Tarkin's facility, Sentinel Base, is attacked out of nowhere and his personal ship is later stolen, the Emperor orders Tarkin and Darth Vader to work together and find out who is responsible for these crimes. As the present day events unfold, readers also learn about Tarkin's upbringing on the planet Eriadu and how he grew up to be the cold and calculating military man we know him best as.
Star Wars: Darth Vader
Yes, we're double-dipping with Darth Vader, but who better? Starting at the beginning of 2015, Marvel took over Star Wars comic book duties, and a month after the main Star Wars series began publishing, Star Wars: Darth Vader kicked off. Taking place between A New Hope and The Empire Strikes Back, this comic book series has Vader doing what he does best: rooting out Rebel threats and staying ahead of any Imperial conspirators who are trying to undermine him. Whether he's swinging his crimson-bladed lightsaber, Force choking an unlucky soul or simply intimidating someone with his very presence, this features Darth Vader at his finest. Along with guest appearances from favorites like Boba Fett and Jabba the Hutt, this series also introduced several notable characters, including Doctor Aphra, who now leads her own spinoff comic book. The Darth Vader series wrapped up its 25-issue run this past summer, and now that all the issues are available in trade paperbacks, this is the best time to read the tale from start to finish.
Battlefront: Twilight Company
Battlefront: Twilight Company isn't directly tied to Rogue One, but if you like the war action of the first Anthology spinoff, this novel offers more of that. Published shortly before the new Star Wars Battlefront video game was released, Twilight Company follows the eponymous Rebel infantry group (officially known as the Sixty-First Mobile Infantry) after the first Death Star's destruction. Where other Rebel operatives have failed, this group relishes defiance and take the fight directly into Imperial territory even when the odds seem insurmountable. From infiltrating an Imperial mansion on Haidoral Prime to taking part in the battle of Hoth, these soldiers are among the best that the Star Wars history books won't name, so if you enjoyed playing the new Battlefront game and enjoyed the darker feel of Rogue One, pick up this book and learn about some of the other minor characters that made major contributions to the Rebellion.
Your Daily Blend of Entertainment News
Connoisseur of Marvel, DC, Star Wars, John Wick, MonsterVerse and Doctor Who lore. He's aware he looks like Harry Potter and Clark Kent.