Pennywise Lurks In The Sewers In The Newest Photo From Stephen King's It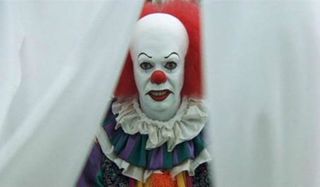 Bill Skarsgard has some big shoes to fill when it comes to portraying It's Pennywise. Tim Curry's version of the diabolical clown in the 1990 horror miniseries continues to petrify audiences of all ages to this day, and it's now up to Skarsgard to try and eclipse it. The latest image of Bill Skarsgard as Pennywise suggests that he might actually be able to do just that, too, as it shows him spookily peering out of the sewers and straight into your soul. Take a peek at Pennywise below.
That particular location is rather relevant in Andres Muschietti's upcoming adaptation of Stephen King's 1986 novel. That's because it's where George Denbrough (Jackson Robert Scott) is murdered by Pennywise in the fall of 1988 in Derry, Maine. This is the catalyst for the events in It, as nearly 12 months later, in the summer of 1989, Bill Denbrough (Jaeden Lieberher), George's older brother, and his group of pals known as The Losers' Club make it their duty to find his killer. Little does Bill Denbrough and The Losers' Club know that George's killer was actually an evil entity known as Pennywise The Dancing Clown, who is an ageless, shape-shifting evil that awakens every three decades and causes quite a bit of havoc.
At the same time as unveiling the new above image of Pennywise, director Andres Muschietti, who received cinematic acclaim for his work on Mama, spoke about the sort of terror we can expect from Pennywise in It, explaining that he's far from a character that lurks in the shadows. Instead, Muschietti told Entertainment Weekly that what makes Pennywise so terrifying is the fact that when he's on the hunt to terrify he makes sure that "he's front and center." Muschietti added:
This isn't the first picture that we've seen of Bill Skarsgard as Pennywise from It's production, which finished in September. You can take a gander at another image of Bill Skarsgard as Pennywise in It below.
We've still got quite a while to wait until It is actually with us, as it's set to be released on September 8, 2017. But keep posted to CinemaBlend for further news, pictures, clips and trailers for the film in the build-up to its release.
Your Daily Blend of Entertainment News
Your Daily Blend of Entertainment News
Thank you for signing up to CinemaBlend. You will receive a verification email shortly.
There was a problem. Please refresh the page and try again.