Was Andrew Garfield Really Fired From Amazing Spider-Man? Here's What He Says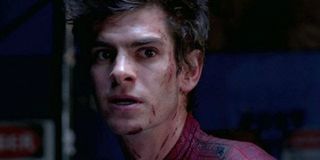 Andrew Garfield's career jolted on a completely different trajectory after it was announced that he would no longer be playing Spider-Man, and that the Amazing Spider-Man franchise had been dissolved. Suddenly Garfield had the free time to work on projects like Hacksaw Ridge and Silence, both of which have seen him touted for Oscar nominations. But that doesn't mean that his departure from the Spider-Man franchise was all of his own volition. In fact, Andrew Garfield has now teased that it was a little messy, but refused to admit that he was fired in the process.
Andrew Garfield made this admission during an interview with the Guardian to mark the release of Silence, the spiritual Martin Scorsese drama that has received plenty of plaudits, a healthy portion of which have been directed towards the English actor. The conversation soon turned to his work on The Amazing Spider-Man as Peter Parker, and the way it suddenly came to an end. When quizzed about whether he was fired by Sony, Garfield responded,
The speculation that Andrew Garfield was fired from The Amazing Spider-Man franchise previously emerged courtesy of the hacking of Sony's emails in May 2015. These suggested that Andrew Garfield was "let go" because he didn't turn up to an event in Brazil where The Amazing Spider-Man 3 was set to announced, with its release date planned for July 2017. What made it umpteen times worse was that Sony boss Kaz Hirai was the one all set to announce the film.
Andrew Garfield insists that he didn't turn up because he had a sickness that was caused by jetlag, and the above quote was in response to whether he'd self-sabotaged himself. Following on from the disappointment of The Amazing Spider-Man 2, and with Sony having planned a tremendous expansion of the franchise that would have included four spin-offs, the studio decided to cancel them all. 19-year-old Tom Holland has since been cast as Spider-Man, and he's even been folded into the Marvel Cinematic Universe after a deal was worked out with Marvel and Sony.
The failure of The Amazing Spider-Man franchise shouldn't reflect poorly on Andrew Garfield, though, who has always managed to bring a gentle charisma and subtle power to his performances that he can manifest across eclectic roles. Take Silence for example, where he dominates the screen for its entire running time, and is just as integral as director Martin Scorsese for making the audience lean further and further in as it progresses. You can check out a snippet of his performance inSilence below:
Silence will be released wide across the country on January 13, while Spider-Man: Homecoming will arrive in cinemas on July 7.
Your Daily Blend of Entertainment News
Your Daily Blend of Entertainment News
Thank you for signing up to CinemaBlend. You will receive a verification email shortly.
There was a problem. Please refresh the page and try again.