21 Big Movies All Coming Out In The First Few Months Of 2017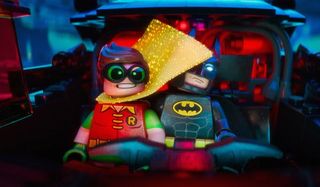 Let's be real: the winter season has never exactly been cinematic heaven. The early months of the year don't get the sheer volume of blockbusters that tend to come out of the summer time; and while the fall is the place for studios to place their prestige pictures, January through March has a long history as a dumping ground. That being said, the cinematic release calendar has evolved greatly in recent years, and as a result there are actually some pretty big and fascinating projects that are set to hit theaters in just a few short weeks.
Which films are these? Lucky for you, below and across the next few pages we've highlighted some of the biggest titles that are set to come out between now and the end of March -- noting not only what it's about, but our expectations as well. With that, let's dive in, shall we?
Split -- January 20
After a string of disappointing features, M. Night Shyamalan came back in a big way in 2015 with The Visit -- the filmmaker finding great opportunity for big scares while utilizing a smaller budget. He's back and ready to do the same thing again with Split, a film that centers on a group of young girls who find themselves held captive by a strange man with dissociative identity disorder. Having premiered at multiple festivals in late 2016, this one already has a good amount of buzz going for it, and it could wind up being a surprise hit.
Bastards -- January 27
Cinematographer Lawrence Sher is probably best known for being the guy who has made Todd Phillips' last few movies so incredibly beautiful, but with Bastards he is stepping into the director's chair for the first time and hopefully is prepared to make us laugh. He certainly has a great cast to work with, as the new film centers on a pair of fraternal twin brothers (Owen Wilson and Ed Helms) who go on a journey to find out who their real father is. The January release date isn't a terrific sign, but we've been surprised in the first month of the year before.
A Dog's Purpose -- January 27
Everybody loves dogs, and it's why every few years or so we get a new movie centering on man's best friend. A couple years ago it was Max, but in 2017 the title de jour is Lasse Hallstrom's A Dog's Purpose. Told from the perspective of a dog who has lived multiple different lives (voiced by Josh Gad), the movie explores both his relationship with his owners, as well as the meaning of his own existence. We fully expect this one to make audiences shed a few tears.
The Space Between Us -- February 3
As the year rolls on, we will certainly see a wide array of big sci-fi blockbusters hit theaters, but Peter Chelsom's The Space Between Us looks to tell a very different story within the genre. It has a great premise, following the first child ever born on Mars as he makes his way to Earth for the first time, and if it capitalizes on its potential it could very well be a fun early-in-the-year treat.
Fifty Shades Darker -- February 10
The sequels are starting up early in 2017, with the first on the schedule being Fifty Shades Darker, director James Foley's sequel to the 2015 Fifty Shades of Grey. The earlier movie had a bit of a mixed release to say the least - panned by critics, and making far more money internationally than domestically, but there will still be many curious eyes watching to see if the new film winds up being an improvement over its predecessor -- furthering the relationship of Anastasia Steele (Dakota Johnson) and Christian Grey (Jamie Dornan).
John Wick: Chapter Two -- February 10
John Wick was a movie that seemingly came out of nowhere when it was released back in 2014, but its pure awesomeness and world-building has us foaming at the mouth for Chad Stahelski's John Wick: Chapter 2. Keanu Reeves is back as the titular killer, but instead of a revenge mission, this time around he's traveling to Rome to help an old friend take down an international assassins guild. It'll be curious to see how our own expectations affect this one, but it's easily one of our most anticipated action flicks of the year.
The LEGO Batman Movie -- February 10
Last year wasn't exactly a prime one for Batman, as both of his big screen appearances - in Batman v Superman: Dawn of Justice and Suicide Squad -- got slashed to ribbons by critics. However, the Dark Knight is ready to rebound in a big way in 2017 with Chris McKay's The LEGO Batman Movie. Audiences already fell in love with Will Arnett's incarnation of the classic superhero character in 2013's The LEGO Movie, and everything that we've seen from this follow-up looks absolutely superb, from its humor to its reverence of comic book mythos.
A Cure For Wellness -- February 17
We were originally supposed to get this one back in 2016, but we're now just eagerly anticipating it in 2017 instead. Gore Verbinski's A Cure For Wellness is the director's first return to the horror genre since The Ring all the way back in 2002 -- and while the filmmaker's penchant for variety doesn't make this hugely surprising, it does make us all the more excited for his next feature. The story of a young executive (Dane DeHaan) who has to find his boss inside a mysterious health spa has plenty of horrific potential, and the trailers have given us hopes for a few good screams.
Fist Fight -- February 17
We here at Cinema Blend are never going to complain about getting more Charlie Day - and director Richie Keen's Fist Fight marks a major point in the actor's career, as it's his first lead role. The gifted It's Always Sunny In Philadelphia is paired opposite Ice Cube in the film about two teachers who prepare to have an out-and-out brawl in their school parking lot, and it looks like it could be a surprise comedy hit early in the year.
The Great Wall -- February 17
Director Zhang Yimou has made a large number of beautiful and impressive films - from Hero to House of Flying Daggers to Curse of the Golden Flower - but in 2017 he is releasing his first ever English-language movie in The Great Wall. Starring Matt Damon, the blockbuster looks like a legitimate fantasy epic, and is actually already raking in the dough thanks to an early release in China. There will be a lot of eyes watching to see how it performs domestically when it arrives in mid-February.
Get Out -- February 24
Jordan Peele has earned thousands of fans thanks to his incredible comedic gifts and collaborations with Keegan-Michael Key... but only in 2017 will we get to see him express his true passion. It turns out that Peele is a huge horror fan, and this year he is planning to scare the crap out of you with his directorial debut, Get Out. The story of a young black man (Daniel Kaluuya) who takes a terrifying weekend trip to the massive estate belonging to his white girlfriend's parents, the movie looks like it has huge potential for scares as well as smart social commentary.
Logan -- March 3
Comic book fans have a plethora of live-action big screen options coming their way in 2017, with a total of six major films populating the calendar -- and the first to arrive will be headed our way on March 3rd. We've been waiting a while for director James Mangold's sequel to The Wolverine, and it appears that we're finally getting the proper treatment of the character we've always wanted with Logan. This time around we're going to finally see Hugh Jackman go into legitimate berserker mode supported by an R-rating, and it's about time given that the future-set story will be the Australian actor's last go-round in the role.
Kong: Skull Island -- March 10
The year 2017 is going to see a number of major franchises really start to boil and get ready to launch huge plans for the future, and Jordan Vogt Roberts's Kong: Skull Island. The new movie is technically a prequel to Gareth Edwards' hit Godzilla reboot from 2014, and while it looks like it will be telling its own independent story - set in the mid-1970s and following an expedition to the titular mysterious location -- it's also expected to set the table for the Godzilla vs. Kong blockbuster that is currently aiming at a date in 2020.
T2: Trainspotting -- March 10
Fans have been patiently waiting for more than 20 years for Danny Boyle to bring back his ragtag group of Scottish heroin uses in a sequel to Trainspotting, and in 2017 we will finally be getting it in the form of T2: Trainspotting. Sure, the title is really stupid, but the fact is that we've been itching to see Ewan McGregor's Renton and his crew back on the big screen, and with the original creative team back at the wheel, we only expect fireworks.
Beauty And The Beast -- March 17
Disney has had some ridiculous success in the last few years crafting live-action adaptations of their beloved animated hits -- and that train looks to keep on rolling in 2017 with Bill Condon's Beauty And The Beast. The first in the line to also be a musical, and featuring an astounding ensemble cast led by Emma Watson and Dan Stevens, the film looks absolutely stunning and fun -- and is all but guaranteed to wind up being one of the biggest hits of the year.
The Belko Experiment -- March 17
Fans will sadly have to wait a couple of extra months before they'll be able to get their peepers on James Gunn's Guardians of the Galaxy Vol. 2 -- but those jonesing for the filmmaker's particular style, creativity and wit should be satiated with director Greg McLean's The Belko Experiment, which is based on an original screenplay by Gunn. Far more in line with Dawn of the Dead and Slither than anything Marvel has come out with, the new film centers on a corporation that is put into lockdown as employees are told by a mysterious voice that they have to participate in a murderous game, or risk being eliminated. It looks like some twisted, clever horror fun, and we can't wait.
CHiPs -- March 24
The influx of feature films based on classic television shows has mostly slowed recently, but we do still get one or two a year, and in 2017 it's Dax Shepard's CHiPs filling the slot. We can't say too much about the movie, as we're still awaiting a debut trailer, but with a cast that includes Shepard, Michael Pena, Kristen Bell, Vincent D'Onofrio, Adam Brody, May Rudolph and more, our hopes are set pretty high.
Life -- March 24
Last year, the team of Rhett Reese, Paul Wernick and Ryan Reynolds brought us the incredibly awesomeness of Deadpool -- and while director Daniel Espinosa's Life looks like a horse of a completely different color, we are still completely amped for it. The sci-fi story has both a great cast (including Jake Gyllenhaal, Rebecca Ferguson, and Hiroyuki Sanada in addition to Reynolds) and an awesome Alien vibe, and we can't wait to see how it unfolds.
Power Rangers -- March 24
If you're a '90s kid, you've probably known for a while that a Power Rangers reboot was coming... but now it's actually almost here and just a few shorts months away from release. The movie looks to be keeping all of the basic elements -- from the alien origins, to Alpha 5, to the villainous Rita Repulsa (Elizabeth Banks) -- but the Dean Israelite-directed blockbuster looks like it's taken a page out of Chronicle's book and is going super edgy and gritty with its tale of teenage superheroes.
The Boss Baby -- March 31
As far as animated movies go, 2016 most definitely set a high bar for 2017 to live up to, but we are getting two big family-friendly releases in the first quarter of the year. Following about a month and a half after The LEGO Batman Movie, audiences will see the release of Tom McGrath's The Boss Baby -- the latest release from DreamWorks Animation. McGrath's previous credits include hits like the Madagascar movies and Mastermind -- and he has a great cast in this one led by Alec Baldwin, so we could see some big things for this one when it comes out in late March.
Ghost In The Shell -- March 31
Because of its casting choices -- specifically Scarlett Johansson playing the lead role -- Rupert Sanders' Ghost In The Shell has been at the center of a good amount of controversy for a while now, but based on the first trailer it certainly looks like audiences could be in store for a vivid, stylistic ride that keeps strict ties back to the anime source material on which it's based. The story is high-concept -- following a cyborg police officer as she goes on the hunt for an elite computer hacker -- but the visuals could possibly elevate this one to be special.