Who DC Needs To Cast As Shazam Opposite The Rock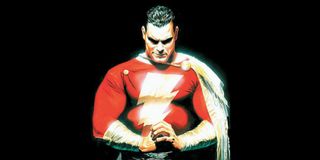 The development of DC's Shazam has become a fascinating aspect of the modern superhero landscape. We have known about the movie for some time, but we still have very few nitty gritty details to examine. All we have to go by for now is the fact that it takes place within the DCEU, and it will feature Dwayne Johnson as the villainous Black Adam. That particular development always struck us as odd, because Johnson seemed like the perfect choice to portray the titular hero in the first place. He's tough, and he's funny, but it now appears that he's also off the table. DC and Warner Bros. have taken their time announcing the actor who will play Captain Marvel a.k.a Shazam when the movie finally debuts, and we think that they should give careful consideration to wrestler-turned-actor John Cena.
Let's get the obvious out of the way right off the bat: John Cena very clearly looks like Shazam. He has got the physicality, the square jaw, and the overall imposing presence needed to portray the beefed up, powerful version of Billy Batson. That said, there are plenty of other former wrestlers (and generally buff actors) would possess those traits. John Cena is the perfect choice because he has proven time and time again that he has the comedic chops necessary to pull off a character such as this. His most memorable movie performances haven't been action-oriented, they have been comedies, and his recent hosting stint on Saturday Night Live proved that he could work with a wide variety of funny materials.
Look no further than his recent role in Sisters for a quick glimpse at his deadpan comedic timing:
That talent is fundamental when portraying a character like Shazam because he's not a typical adult hero like Superman or Batman. Shazam is a young boy who finds himself endowed with the Wisdom of Solomon, the Strength of Hercules, the Stamina of Atlas, the Power of Zeus, the Courage of Achilles, and Speed of Mercury whenever he utters his catchphrase. He may look like your typical masculine hero, but he comes with all of the thoughts, insecurities, and dreams of a child. He will want to save the world in one moment, and then want to trick or treat with the Teen Titans in the next; that's where the charm of the character lies.
There's precedent for a casting decision like this to work. Like John Cena, Dave Bautista got his start in the world of wrestling, and like John Cena, he proved that he has excellent comedy skills in addition to his insane action abilities. Bautista's Drax the Destroyer has become a clear scene-stealer in the Guardians of the Galaxy franchise, and John Cena could fill a similar role for DC by taking on Shazam. After all of the DCEU's recent doom and gloom, he could be precisely what this universe needs -- particularly opposite someone like the endlessly charming Dwayne Johnson.
Of course, as fans of the greater DC lore already know, finding the right actor to play Shazam only represents half the battle in this movie. The film also needs to cast the right young actor to take on the role of Shazam's alter ego, Billy Batson. With that in mind, I would like to respectfully suggest that Warner Bros. take a long and hard look at Room's Jacob Tremblay.
When it comes to child actors, it's hard to think of anyone better than this kid. Jacob Tremblay has turned in a series of excellent performances over the course of the last few years, and by the time Shazam hits theaters he will be a preteen -- the perfect age to play Billy. Besides, how poetic would it be for Jacob Tremblay and his Room co-star Brie Larson to portray characters named Captain Marvel? It's too perfect. You throw this young actor into a DC movie with John Cena as his more powerful counterpart, and you have a comic book adventure for the ages.
That's my take on the matter. What do you think? Is John Cena a good choice to take on the role of Shazam, or should DC look to another muscle-bound actor with strong comedic abilities? Let us know what you think in the comments below! Shazam is currently slated to hit theaters in 2019.
Your Daily Blend of Entertainment News
Originally from Connecticut, Conner grew up in San Diego and graduated from Chapman University in 2014. He now lives in Los Angeles working in and around the entertainment industry and can mostly be found binging horror movies and chugging coffee.
Your Daily Blend of Entertainment News
Thank you for signing up to CinemaBlend. You will receive a verification email shortly.
There was a problem. Please refresh the page and try again.