See The Upgrades Tony Stark Put In Spider-Man's Suit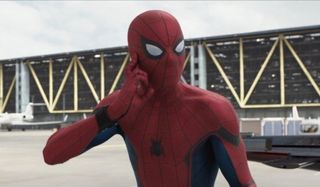 Because of Tobey Maguire and Andrew Garfield's performances as Spider-Man in five films over the last 15 years, adjustments were always going to have to be made to make Tom Holland's incarnation stand out. But unlike Maguire and Garfield's versions, who were pretty much on their own, Tom Holland has got a team of Avengers to help him in his crime-fighting quests. One of whom is a multi-billionaire inventor named Tony Stark, who has helped out his less financially stable superhero peer by upgrading his previously pitiful costume for Spider-Man: Homecoming. We've now been provided with a nifty breakdown of how Tony Stark has upgraded Peter Parker's Spidey suit, which you can watch below.
So, what has the Spider-Man suit that was specifically designed for Peter Parker by Tony Stark got that its predecessors didn't have? Well, other than the coveted Stark seal of approval, Tom Holland will also have an upgraded web shooter that has selectable web types and a laser targeting system. Both of which surely make being Spider-Man as easy as playing a video game.
At the same time, Tom Holland's Peter Parker doesn't have to spend hours memorizing the streets and avenues of New York City so that he web-slings his way through the Big Apple in the quickest fashion. That's because Tony Stark has provided him with a GPS tracking system that has a holographic wrist display, too. Being Spider-Man has never been so simple. I think I might apply. The spandex probably won't be so kind to my curvaceous figure, though.
Andrew Garfield and Tobey Maguire must be so jealous. Basically all they had was spandex, a pair of gloves, and their grit and determination when they had to fight The Lizard, Doc Ock, and The Green Goblin. I suppose they also had the fact that they'd been bitten by a pesky radioactive spider that gave them special powers, which they used for good, too.
The tricky part of these Spider-Man upgrades presents itself in the form of the web-wings, though. That's because it sees Peter Parker flying through the air like a bird. If he gets that wrong, there could be messy and very dead repercussions. We got a sneaky peek at Spider-Man's web-wings in the first trailer for Spider-Man: Homecoming, and it was enough to immediately let audiences know that the blockbuster will be very, very different to its predecessors. You can check out the trailer for Spider-Man: Homecoming below.
We don't have that much longer to wait and see Peter Parker flying high in his new garments in Spider-Man: Homecoming, because it's finally going to be released on July 6.
Your Daily Blend of Entertainment News
Thank you for signing up to CinemaBlend. You will receive a verification email shortly.
There was a problem. Please refresh the page and try again.