How Often Hotel Room Pornography Is Ordered Compared To Netflix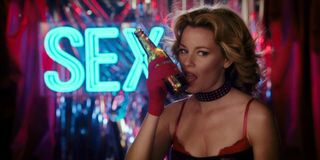 If you have ever spent any time at a hotel, then you already know that the in-room TV service can get somewhat colorful. Sure, there's the basic TV package and on-demand movies, but (as you have probably noticed) there's also the "adults only" section that you have to keep the kids away from. As it turns out, if you have never ordered porn through your hotel on-demand service, you seem to be part of the majority. In-room adult entertainment is becoming less viable, and that trend is slowly but surely leading hotels to replace their adult content with streaming services like Netflix.
A new report from Variety indicates that consumption of Netflix in hotel rooms has started to outpace consumption of on-demand adult movies by a considerable margin. According to the numbers, although 90% of in-room VOD profits come from adult entertainment, only 1% of hotel rooms will make a VOD purchase on a given day. By contrast, hotels that have started to offer streaming services in their rooms have seen a massive uptick in usage, as roughly 40% of hotel rooms will use a service like Netflix in a day.
With those numbers in mind, despite the fact that in-room porn has historically generated earnings, it's beginning to make less and less sense to offer it in a hotel room. Despite the fact that a hotel cannot make as much money off of a streaming service, there is quantifiable evidence that more people will watch it, and on average they will watch more TV -- for longer periods of time -- when Netflix is available.
Look, we're all adults here, so I am not going to beat around the bush. I don't think that this shift has anything to do with the fact that people have stopped watching porn; if you have kept yourself up to speed on the most common porn searches of 2016 (which we totally have), then you already know that's not true. I think they have just finally caught on to the fact that the Internet exists for their porn needs. Hotel porn seems like an outdated, almost quaint topic. As entertainment technology continues to expand and evolve, hospitality services will have to change in order adapt to the new demands of consumers. Netflix seems like the answer at this point in time.
Just think about it, if a kid can accidentally get porn through Amazon Alexa, do you think that someone is going to pay for it at a hotel?
Porn in hotel rooms isn't going to go away overnight; it still brings in money for a large number of hotels. In fact, some hospitality companies have even experimented with the idea of adding novelty features like virtual reality to the in-room porn experience. That said, considering the way the winds of change are currently blowing, it seems that more savory forms of entertainment have gradually started to supplant porn.
What are your thoughts on this development? Are you an avid consumer of in-room smut, or do you think hotels should make the switch to the Netflix and chill method? Give us your take in the comments section below so we can keep this conversation going!
Your Daily Blend of Entertainment News
Originally from Connecticut, Conner grew up in San Diego and graduated from Chapman University in 2014. He now lives in Los Angeles working in and around the entertainment industry and can mostly be found binging horror movies and chugging coffee.
Your Daily Blend of Entertainment News
Thank you for signing up to CinemaBlend. You will receive a verification email shortly.
There was a problem. Please refresh the page and try again.