Las Vegas Will Offer VR Porn On Room Service Menu, Here's What We Know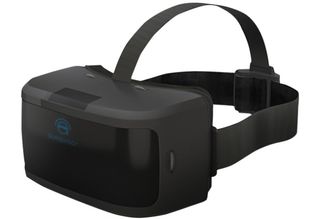 It's not news that VR porn has been taking the porn industry by storm. Popular porn site, Pornhub, even has its own VR headset to go along with its new and special VR category on the website. And now Las Vegas will be the first city to offer VR porn as a means of entertainment directly through hotel room service.
The porn studio, VR Bangers, has partnered with a VR headset company who received funding for the project through Indiegogo and Kickstarter. The two hope to start trialing the room service very soon at hotels in Las Vegas. The service will cost $19.99 for each X-rated scenario chosen. The experience is meant to feel real with a replicated version of a hotel room viewable in the headset.
VR Bangers has worked with other headsets like the Oculus Rift, but their current partner AuraVisor is cheap and easy. It sits on your head via two straps, one that goes over the top of your head and one that wraps around the back of your head for a secure fit. The screen is a 1080p HD 5-inch display, but it also is completely wireless so you don't have to worry about tripping over or getting wrapped up in a bunch of cords during your private, VR rendezvous.
I'm not entirely surprised this VR porn room service is coming to Las Vegas first, but in a way I'm also not surprised VR porn is becoming this popular. With the rise in VR technology and the popularity of VR gaming, it's no surprise that the only next logical step is to make virtual porn more life-like. Honestly, it's exciting to see technology changing so much and has me on the edge of my seat wondering what'll be next. Holographic porn? Fully-operational robot strippers?
Recently, a campaign on Kickstarter showed off a VR porn game that allows players to get the chance to not only be pleasured in ways only their fantasy can create, but to also participate in being the hero in an adventure scenario and getting the girl in the end. And we know what it means to "get the girl" in the end in this case. The company did promise that if the current campaign did well, they would also create a version for women. What's stunning about this particular project is that the game controller is actually a sex toy, designed for the male in this version. It's just so amazing to see how the porn industry is evolving as the technology around us changes also. If you set aside all of your judgements about porn and really think about how far porn has come from just "nudey mags", it's pretty amazing. I'm actually surprised it's been able to keep up for this long.
If you think about it, hotels have adult porn channels, so it seems only natural that they would begin to offer VR porn. It will probably only be offered in the swankiest Las Vegas hotels, but it will eventually trickle out into others. I could see hotel VR porn becoming just as popular as hotel porn on TV.
There is no indication of when the VR porn room service will be officially offered in hotels or when the trials will begin. We'll continue to keep you updated as we get more information. For more information on the AuraVisor headset, you can check out their official website.
Your Daily Blend of Entertainment News
Your Daily Blend of Entertainment News
Thank you for signing up to CinemaBlend. You will receive a verification email shortly.
There was a problem. Please refresh the page and try again.