New LEGO Batman Movie Video Hilariously Highlights Batman And Robin's Weird Relationship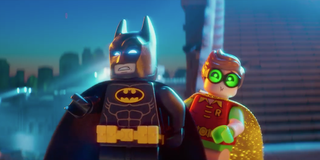 In case Ben Affleck's Batman reprisal in Justice League next November isn't exciting you, don't worry, because another version of the Caped Crusader will be returning on the big screen much sooner than that. Next month will finally see the release of The LEGO Batman Movie, which will turn a comedic light on the Batman mythos in a way that's never been done before. One element that will be explored is Batman's relationship with his young ward/sidekick Robin, and the latest promo makes it clear that the filmmakers know that this is a weird dynamic...duo.
After living the crimefighter/bachelor life alone for so long, Will Arnett's Bruce Wayne, who was last seen in 2014's The LEGO Movie, is going to have his world thrown askew in The LEGO Batman Movie when accidentally adopts Michael Cera's Dick Grayson. Dick clearly wants to be part of a family (evidently the Flying Graysons never took the opportunity to pose for family pictures in this LEGO world), but Batman isn't on board with taking the young lad under his wing at first, dismissing Ralph Fiennes Alfred's advice as watching too many Lifetime movies and sipping too much wine.
Eventually Robin will join Batman's crusade to fight the superstitious and cowardly lot, but it will get off to a rocky start, as Bats isn't a hugger. Appropriately, Rosario Dawson's Barbara Gordon notes how weird it is that Batman's brought a brightly costumed boy into battle with him that's not his son. There have been plenty of jokes made over the decades about Batman and Robin's relationship, especially since the Boy Wonder was the first comic book sidekick. While The LEGO Batman Movie can only go so far on that front with its PG rating, expect a lot of funny moments between the brick versions of Gotham City's famous defenders. Now I can't help but wonder if the movie will address some of Batman's other "strays" from the comics, like Jason Todd, Tim Drake and Carrie Kelley.
While The LEGO Batman Movie's main plot will see Batman and Robin trying to stop The Joker's Gotham City takeover, there will be plenty of self-referential humor at Batman's 75+ year history across media. This includes showing the many kinds of Batsuits hidden in the Batcave, a dig at Batman v Superman: Dawn of Justice, drawing attention to the obscurest members of his rogues gallery (yes, Condiment King actually exists), including Batman's Justice League teammates and even getting Billy Dee Williams to voice Two-Face, a role he never had the chance to properly play in live action.
Directed by Chris McKay, The LEGO Batman Movie hits theaters on February 10, 2017.
Your Daily Blend of Entertainment News
Connoisseur of Marvel, DC, Star Wars, John Wick, MonsterVerse and Doctor Who lore. He's aware he looks like Harry Potter and Clark Kent.
Your Daily Blend of Entertainment News
Thank you for signing up to CinemaBlend. You will receive a verification email shortly.
There was a problem. Please refresh the page and try again.