The Highlander Reboot Will Be Like John Wick With Swords, According To The Director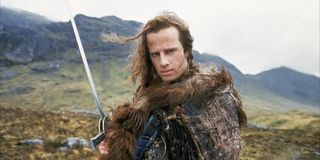 While it's sometimes hard to get excited about yet another reboot of yet another long dormant franchise, the proposed new incarnation of Highlander has been able to generate a nice amount of buzz because of the fact that it's going to be helmed by Chad Stahelski, who previously co-directed John Wick alongside David Leitch, and is currently busy promoting John Wick: Chapter 2. Which means that fans will be delighted to hear then that Chad Stahelski has revealed that his version of Highlander will be just like John Wick, only with swords.
Chad Stahelski made this revelation when he sat down to talk with Collder about his efforts on John Wick: Chapter 2. When the topic of Highlander came up, the filmmaker explained that the rating and violence for the film has so far been determined organically, teasing that it still falls in line with what he has achieved with his John Wick films. Chad Stahelski explained,
Released in 1986, Highlander was originally a box office failure, grossing just $12.9 million from a $19 million budget, while it also received mixed reviews. But it soon developed a cult following, and miraculously resulted in four sequels that were released intermittently between 1991 and 2007, with the latter having the indignity of premiering on the Sci Fi Channel.
The original film revolves around swordsman Connor MacLeod (Christopher Lambert) from the Scottish Highlands, who has charmingly been called the Highlander, and was trained by Ramirez (Sean Connery) in the 16th century. The Highlander is an immortal warrior who can only be killed by decapitation, something that he manages to avoid all the way through to 1985. The Highlander leaves the moors of Scotland behind, though, in exchange for New York. At this point, though, not only does Connor fall in love with a policewoman named Brenda (Roxanne Hart), but he also learns that he has to face Kurgan (Clancy Brown), who was born on the edge of the Caspian Sea in 10th Century BC and is now killing the remaining immortals so that he can gain the "prize," which will give him the power to enslave the entire human race.
We are still not exactly sure how close the Highlander reboot will be to the original, but Chad Stahelski teased in the same interview that it will be pretty close, while also admitting that it's still in development and is a "massive priority" for Lionsgate and Summit Entertainment.
Your Daily Blend of Entertainment News
Thank you for signing up to CinemaBlend. You will receive a verification email shortly.
There was a problem. Please refresh the page and try again.