The Malfoys Held A Mini-Harry Potter Reunion, And Fans Were Overjoyed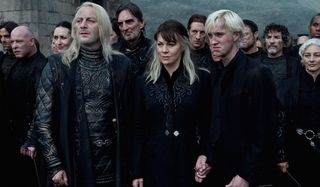 There's nothing movie-fans love more than a surprise reunion. Just look at how the entire cinematic community collectively went, 'Awwww!' when Jonah Hill and Emma Stone had their very own Superbad reunion at the Screen Actors Guild Awards over the weekend. But that has immediately been reduced to an after thought now that Jason Isaacs has taken to social media to post his very own reunion with his Harry Potter son Tom Felton. You can see Lucis and Draco Malfoy plotting mischief at Universal Orlando Resort Florida's Wizarding World Of Harry Potter below.
This wasn't just the biggest coincidence of all time. The duo attended a panel at the Universal Orlando's Celebration Of Harry Potter, where they chatted about the films, their performances, its themes, and how they are relevant to today. At the same time as dealing with such heavy discussions, Issacs also delighted the world wide web with pictures of himself and other Harry Potter luminaries. This extended beyond his immediate Wizarding family to also include Matthew Lewis, who is otherwise known as Neville Longbottom.
Jason Isaacs was clearly on a mission to delight the Harry Potter fraternity. Because when the actor ran into none other than Warwick Davis, who portrayed Professor Flitwick throughout the series, he immediately got another picture and then posted it.
It wasn't just Harry Potter fans that were revelling in these images. Because as soon as JK Rowling, the woman behind all of the magic, saw them she couldn't help but reveal just how ecstatic she was, too. JK Rowling responded to this barrage of images with one simple Emoji that summed up all of our feelings.
Magical. Just magical. In fact, it could only have been better if the Weasley family had suddenly turned up and then they'd all partaken in a Royal Rumble.
Your Daily Blend of Entertainment News
Your Daily Blend of Entertainment News
Thank you for signing up to CinemaBlend. You will receive a verification email shortly.
There was a problem. Please refresh the page and try again.