The 10 Best 2016 Movies That Were Completely Snubbed By The Oscars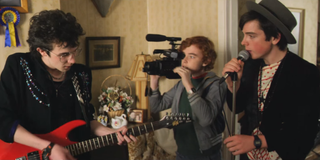 This year's Oscar nominations are out, and while most of the time, the awards are spread out to give as many good movies some love as possible, there are always those films that seem to be overlooked in a key category or two. However, sometimes it seems that entire movies get forgotten about. In a year when Suicide Squad can call itself an Oscar nominee, there are several great films that didn't receive a single nomination.
Some of these certainly seemed to be awards contenders. Others were just great movies that should get more credit than they do. Regardless of the situation, these were great movies that will go without any recognition at this year's Academy Awards.
Sing Street
Sing Street made a lot of end-of-the-year top ten lists in 2016, including more than one here at CinemaBlend. However, when the big awards are handed out in February, none of them will go to Sing Street. It may be that one of the film's biggest strengths ended up being a problem when it came time to nominating it. It's a small movie that doesn't have any established names in major roles. It's part of why the movie works, but the lack of name recognition may have kept some of those that do the Oscar voting away, and it may have also kept the movie out of the memories of others, since it didn't come out during "awards season." Still, NONE of these great songs deserved recognition, Academy?
The Founder
Everything about The Founder seems tailor made to be an Oscar movie. It's a biopic starring a popular and talented actor in the midst of a career resurgence. It screams Oscar nominee. If The Founder was just a bad movie, then that would be one thing, but the film is getting praised by most critics and Michael Keaton is the primary reason for that. The fact that he didn't get a Best Actor nomination at minimum is a bit surprising. There's also a strong argument to be made for the screenplay. We're wondering how many different ballots saw this one as the sixth choice in a five film race.
Captain America: Civil War
We're still waiting for the day that comic book movies graduate from blockbuster box office to critically acclaimed film. While Deadpool was the movie that turned heads by changing the formula, Captain America: Civil War was the one that may have perfected the existing one. Civil War was a great movie, end of story. If Suicide Squad is worthy of an Oscar nomination, than surely Captain America is, too. The one saving grace is that we know this franchise is far from over and if they keep getting better then eventually there will be little choice but for them to be properly recognized.
Deadpool
Leading into the Academy Awards, Deadpool seemed to have a legit shot at Oscar nominations. It wasn't a sure thing at all, but following nominations for the Golden Globes and the Writer's Guild of America, there was a real question about whether or not the Ryan Reynolds superhero movie was going to break through. It didn't, not in any of the categories it could have been considered for. A complete shutout. Whether or not it should have received a nomination, it was still one of the best movies of the year. They'll just have to be happy with the hundreds of millions of dollars they made at the box office.
Queen of Katwe
Disney had the biggest years of any movie studio in the history of time in 2016. In addition to making all the money, they also earned themselves a decent share of award nominations. However, one of their films that didn't break the bank also didn't get recognized by the Oscars. Queen of Katwe is a simple movie, but it's a great one that didn't get nearly enough attention. Not unlike Sing Street, the major roles are played by kids, which tends to keep them from being noticed by the Oscars, but they do a great job nonetheless. If you're one of the people that missed this one initially, take the time to fix that.
Patriots Day
2016 was the year of Peter Berg and Mark Wahlberg making films based on tragic, and amazing, real life events. One of them, Deepwater Horizon, ended up with a pair of technical nominations, but Patriots Day did not get anything. Considering the subject matter, and the fact that it has a full list of top notch actors involved, we would have expected this one to make bigger waves. Even if it's not quite awards worthy, it is a solid and tense action thriller which is at least as good as its counterpart film that got nominations.
Finding Dory
Finding Dory was a movie that clearly was something special among audiences, as it was the second highest-grossing film of the year in North America. However, it was unable to achieve the same level of love among Academy voters. Part of the issue is that when it comes to animated feature films, there's really only one award for them, the Best Animated Feature Film prize. If you're not in the top five then you're going to be forgotten. As Disney also had two other solid entries this year (in Moana and Zootopia), there may have been an effort to not make the majority of the nominees Disney movies, which is understandable. However, that just means that Dory was defeated by math.
Miss Sloane
Jessica Chastain is no stranger to Academy Award nominations. This was clearly on the mind of those who released Miss Sloane in the fall season, thinking that this one would have a shot at earning her another nomination. While pretty much all of the film's eggs were in the Best Actress basket, this wasn't without reason. Chastain is great in the movie. Most agree that Miss Sloane is a solid film and our own Mike Reyes thought it was even better than that. Unfortunately, as Chastain did not receive a nomination, that pretty much meant the movie got ignored entirely.
Paterson
Adam Driver was in more than one great movie in 2016 but Paterson was very likely his best. Having said that, it was completely overlooked by pretty much everybody. The movie is sitting at a 96% on Rotten Tomatoes. That is as close to universal praise as you can get these days. There's no question that it's a good movie, but for whatever reason, the Academy didn't think it was good enough. As it was a late comer in the season it's possible that just not enough voters actually saw it. You may want to be sure that you do. There's no reason not to check it out though if you want to see one of the best films of the year.
A Monster Calls
Several of these films may have lost out on Oscar nominations because their opportunities were limited. A Monster Calls, however, could have received numerous nominations in a variety of categories, and yet went unrecognized in every single one. It's a magical and inventive story but even if you're not sold on that, it's difficult to not appreciate the visual creativity of the movie. We would have expected A Monster Calls to be thrown a bone of a technical nomination in something like visual effects but it was apparently not to be. If you like to watch movies with a box of tissues nearby, be sure to check this one out.
Your Daily Blend of Entertainment News
Content Producer/Theme Park Beat
CinemaBlend's resident theme park junkie and amateur Disney historian. Armchair Imagineer. Epcot Stan. Future Club 33 Member.