Hey DC, Give The Lego Batman Director One Of These Live-Action Projects Immediately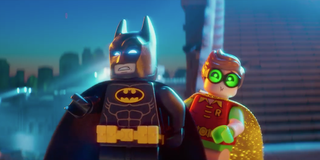 As the early reviews have started to pour in, it has become increasingly clear that people pretty much universally love Chris McKay's work on The LEGO Batman Movie. The film is an incredibly lighthearted take on a traditionally bleak comic book mythos, and now it seems that McKay sees this project as a possible stepping stone towards working within the live-action DCEU. Here's what McKay had to say:
The LEGO Batman Movie's director recently made this reveal to Juan Fernandez-Paris from De Pelicula TV. In an attempt to make sense of this fantastic development, we have put together a few possible projects that would perfectly suit Chris McKay's offbeat sensibilities as a filmmaker. Because as it turns out, the DCEU has a strong need for directors! Check out our list and let us know what DCEU adventure you would like to see McKay take a crack at. Now let's kick this list off with a DC project that just cannot seem to keep a director in place.
The Flash
If you have followed the news related to The Flash's solo movie, then you probably already know that it has experienced an insanely tumultuous development process over the course of the last year. Between the departures of Seth Grahame-Smith and Rick Famuyiwa, The Scarlet Speedster's first silver screen outing has gone through disheartening setback after disheartening setback.
That's where Chris McKay comes in. The Flash is an inherently light-hearted superhero, and McKay's ability to deliver rapid fire, DC-inspired comedy in The LEGO Batman Movie serves as a reliable indication that he could represent the perfect choice to handle Barry Allen's quick-witted sensibilities for this project. Arguably no other member of the Justice League is better suited for direct comedy than The Flash, so DC should embrace this opportunity to inject some much-needed humor into the hero side of the DCEU.
Shazam
From the earliest days of the film's development, Shazam has been held up as a project that's fundamentally distinct from the rest of the films in the DCEU. From Dwayne Johnson to the movie's producers, everyone associated with the movie has promised a lighter tone and an overarching sense of innocent fun. That's an essential requirement for a film like Shazam, as the titular character is quite literally in touch with his inner child.
With that in mind, bringing a director like Chris McKay into the fold makes perfect sense for the film because of the reputation he has developed for playful filmmaking that never takes itself too seriously. Between The LEGO Batman Movie and Robot Chicken, McKay has proven himself quite capable of playing with genre conventions and lighter tones in a way that the Shazam film could genuinely benefit from when it finally enters production.
The Batman
If Chris McKay can expertly tackle the world of LEGO Batman, then there is no reason why he cannot do the same for the DCEU's brooding version of The Caped Crusader. The solo Batman movie suffered a nearly crushing blow when Ben Affleck stepped down as the director of the project, and DC currently finds itself in a mad dash to replace him and continue development with as few hiccups as possible.
The LEGO Batman Movie is obviously incredibly different from a dark and violent live-action Batman movie, but McKay has definitively proven that he knows The Dark Knight's world inside and out. Batfleck could certainly use a somewhat lighter tone at this stage of the DCEU, and McKay's particular penchant for lightheartedness could allow the character to move away from the overly grim Frank Miller inspiration that has characterized the live-action hero since Batman Begins.
Teen Titans
Last -- but not least -- we think Chris McKay is the perfect option to helm a Teen Titans movie if Warner Bros. and DC ever decide to give the sidekick characters in the DCEU a chance to shine. While a live-action Robin will probably not act like Michael Cera's version of the character from The LEGO Batman Movie, the fact remains that the Titans are a more lighthearted team than the Justice League, and Chris McKay's understanding of that tone could easily carry over into a badass Titans movie.
Ray Fisher has even come out and admitted that his take on Cyborg is very much inspired by the "Boo-ya!" version of the character from the Teen Titans cartoon, so refocusing the Cyborg movie into a Titans movie could represent DC's best opportunity to inject some serious fun into the greater DCEU.
Your Daily Blend of Entertainment News
Originally from Connecticut, Conner grew up in San Diego and graduated from Chapman University in 2014. He now lives in Los Angeles working in and around the entertainment industry and can mostly be found binging horror movies and chugging coffee.
Your Daily Blend of Entertainment News
Thank you for signing up to CinemaBlend. You will receive a verification email shortly.
There was a problem. Please refresh the page and try again.