Frank Grillo's The Raid Reimagining Is Back On With A New Director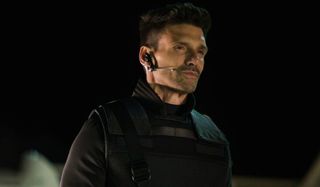 Gareth Evans' The Raid has earned its reputation as one of the most badass and bone-crunching action films of the past decade. It's sequel doubled down on the insane fight sequences (and suffered from some bloody bloat), but the purity of that first film created a blue print that had action junkies salivating. An American remake of the idea has been bouncing around for some time, but a new Tweet reveals that Frank Grillo will lead this The Raid reimagining, with The Grey director Joe Carnahan on board to write and direct.
The video shows Joe Carnahan and Frank Grillo watching the iconic Iko Uwais as he battles his way through throngs of enemies in the original The Raid. The concept of the first movie was, essentially, Die Hard in a dilapidated tenement building, with Uwais playing Rama, a low-level cop involved in the raid of a criminal headquarters who has to fight his way to the top level once the thugs realize the cops have arrived, and all hell breaks loose.
The movie made its name for its incredibly inventive, and vicious, fight sequences. Iko Uwais is like Jackie Chan on speed, punishing his own body as he grapples with an endless wave of thugs in beautifully crafted action set pieces that had action audiences raving.
Naturally, the suggestion of anyone remaking The Raid sent Film Twitter into a tizzy, so Joe Carnahan -- who does have movies like The A-Team on his resume -- tried to calm some of the haters. He says that the new film is not a remake. And then he goes one step further to comment:
My biggest question/concern -- not related to The Raid (though I have concerns about that, for sure) -- is what this announcement does for John Carnahan's involvement in Will Smith and Martin Lawrence's Bad Boys For Life sequel. We recently learned that the anticipated Bad Boys movie would be pushed back from January 2018 to November 2018, though we'd assume that if that date is going to hold, the movie would still need to film this year, giving Carnahan time to finish in post. Does that mean that The Raid reimagining will film AFTER Bad Boys For Life? And what of the fourth Bad Boys movie that was announced with the third one?
There are a few questions, and no real details beyond the fact that Frank Grillo and Joe Carnahan will take a stab at The Raid. When? Where? Why? We hope to have more answers for you on that real soon.
Movie junkie. Infatuated with comic-book films. ReelBlend cohost. Resident dad. Extroverted introvert. Wants to see the Snyder Cut. Managing Director at CinemaBlend.
Your Daily Blend of Entertainment News
Thank you for signing up to CinemaBlend. You will receive a verification email shortly.
There was a problem. Please refresh the page and try again.