What Luke Skywalker's First Words In Star Wars: The Last Jedi Are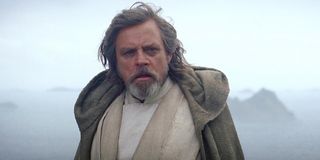 Luke Skywalker was talked about a lot in Star Wars: The Force Awakens, but in terms of actually seeing him, we didn't get much. There was Rey's flash forward, and then in the final minutes of the movie, Rey found the Jedi Master on Ahch-To. He didn't say anything, but his expression upon seeing the young woman spoke volumes. Luke will be a more prominent player in Star Wars: The Last Jedi, and with such status comes actual dialogue! Now we know what his first words will be in the upcoming movie: "Who are you?"
Disney shareholders were screened Star Wars: The Last Jedi footage earlier today, and Los Angeles Times reporter Daniel Miller was on to hand to see it. One of the first things shown was Luke's reaction to Rey, who clearly doesn't know who she is when she arrives on his island. As Miller tweeted:
Along with this snippet of Luke Skywalker's lines, Daniel Miller mentioned in subsequent tweets that other Star Wars: The Last Jedi footage shown included shots of Chewbacca, General Leia Organa (who was wearing a military uniform) and Finn. There were also many kinds of settings shown, like mountains, oceans, forests and deserts. Finally, there was a quick shot of an X-Wing fighter wobbling while in flight as it's under attack inside of a giant ship. Perhaps a Star Destroyer?
Overall, the description of this footage is welcome in terms of learning slightly more about what to expect from Star Wars: The Last Jedi, but at the same time, it surely makes fans a lot more eager for the first trailer. As far as the Luke Skywalker moment goes, this may shed a little light on whether or not he has past history with Rey. Many fans have speculated that Luke is either the woman's father or at least knew her as a girl, before she was left on Jakku. However, the above reaction is that of a man who has never had any past interaction with her. He may be pulling an Yoda by feigning ignorance, but that doesn't sound like Luke's style. It's also possible that he simply doesn't recognize Rey as a young adult, but even if that were the case, you'd think he'd still recognize her through the Force. Curious...
In any case, once the formalities are out of the way, Luke Skywalker will begin training Rey on Ahch-To in the ways of the Force. She held her own against Kylo Ren in The Force Awakens, but like Luke in his younger years, she's not a Jedi yet. As for when the public will get a first look at Star Wars: The Last Jedi, it's looking more and more likely that some kind of preview will be shown at Star Wars Celebration next month, but that's not officially confirmed.
Star Wars: The Last Jedi will be released in theaters on December 15.
Your Daily Blend of Entertainment News
Connoisseur of Marvel, DC, Star Wars, John Wick, MonsterVerse and Doctor Who lore. He's aware he looks like Harry Potter and Clark Kent.