The Important Role Valkyrie Plays In Thor: Ragnarok, According To Tessa Thompson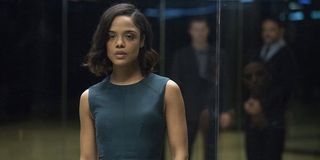 Thor: Ragnarok will be packed with a lot of villains, namely Hela, Loki, Grandmaster, Surge and Surtur. Fortunately, Thor won't have to go up against them alone. Along with his Avengers buddy Hulk lending a hand (after they've gotten their gladiator fight out of the way), the God of Thunder will be assisted by Valkyrie, played by Tessa Thompson. Like her comic book counterpart, Valkyrie will be a mighty superhero within the Marvel Cinematic Universe. Well, she'll get there eventually. When Thor first meets his fellow Asgardian warrior, it won't be under the best circumstances.
In the latest of their Thor: Ragnarok coverage, EW sat down with Tessa Thompson to discuss her role as Valkyrie. Right off the bat, Thompson confirmed that Valkyrie still hails from Asgard in this universe, but in the third Thor installment, she'll be working with Jeff Goldblum's Grandmaster. Thompson explained:
Aside being the third of Thor Odinson's solo adventures, Thor: Ragnarok is also partially adapting the Planet Hulk storyline by dropping Thor on Sakaar, the gladiator planet where Hulk begins supreme as a champion. While The Red King oversaw Sakaar's gladiator matches in the comics, that duty belongs to Grandmaster in the MCU, and for whatever reason, Valkyrie has some kind of business relationship with the eccentric alien. Delivering Thor to Grandmaster isn't the best way to get off on the right foot with our main protagonist, though, since Thor will soon have to fight for his life in that gladiator ring by facing The Hulk. Oh sure, we know those two crazy kids won't kill each other, but it'd be great if they weren't put in that position at all.
There's still a lot of mystery surrounding how Valkyrie will specifically be involved in Thor: Ragnarok, but as with every good superhero character adaptation, elements from her comic book past are being kept intact. In an earlier EW piece, it was mentioned that just like in the comics universe, Valkyrie is part of an "elite group of women warriors," and when Thor meets her, he'll turn into a bit of a "fanboy." That said, the fact that Valkyrie is working with Grandmaster suggests that she's left behind her Asgardian life. On the other hand, if I may get conspiratorial, maybe Valkyrie is undercover as part of an Asgardian sting operation where the endgame is dismantling Grandmaster's cruel games! I might be reaching with that. Regardless, it stands to reason that eventually Thor and Valkyrie will team up in some capacity during Thor: Ragnarok. It's also been long confirmed that Valkyrie will return for future Marvel movies, but when asked if she'll appear in Avengers: Infinity War, Thompson wouldn't say.
You can see Valkyrie in action when Thor: Ragnarok comes out on November 3.
Connoisseur of Marvel, DC, Star Wars, John Wick, MonsterVerse and Doctor Who lore. He's aware he looks like Harry Potter and Clark Kent.
Your Daily Blend of Entertainment News
Thank you for signing up to CinemaBlend. You will receive a verification email shortly.
There was a problem. Please refresh the page and try again.