Why Beauty And The Beast's Screenwriter Totally Changed The Idea Of A Disney Heroine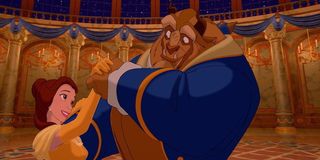 The release of the live-action version of Beauty And The Beast was always going to bring back memories of the classic original, which was released back in 1991 to huge acclaim, a superb box office haul and became the first ever animated film to be nominated for the Academy Award for Best Picture. But its legacy was far more reaching than just that trifecta of accolades, as the film helped to create a brand new version of a Disney heroine, and it turns out that we have screenwriter Linda Woolverton and lyricist Howard Ashman to thank for this transformation.
Linda Woolverton had to fight tooth and nail from the very early stages of Beauty And The Beast's development to make Belle much different to her predecessors, though. Luckily she found a kindred spirit in lyricist Howard Ashman, and the duo were able to do just that. Linda Woolverton both recalled the character's evolution, and detailed these alterations to Entertainment Weekly, remarking:
During the same interview, producer Don Hahn stopped short of saying that Linda Woolverton wasn't "very popular," but did describe her as "combative," while also noting that their relationship was "unusual, difficult," and "tense." However, much more important than all of that was the fact that Linda Woolverton was able to bounce off of Howard Ashman, and their collaborations ultimately led to Beauty And The Beast winning the Best Original Song and Best Original Score at the Academy Awards.
Unfortunately, Howard Ashman wasn't around to see the fruits of his labour, as he died from AIDS-related complications eight months before Beauty And The Beast was actually released. However, his Disney exploits, which also included working on The Little Mermaid, secured his legacy, which is why it was so important for the live-action version of Beauty And The Beast to do its predecessor justice. The reviews for Beauty And The Beast suggest it has done just that, while you can check out the trailer for the remake below.
The Beauty And The Beast remake will be released on March 17.
Your Daily Blend of Entertainment News