Why Dunkirk Is Different Than Other Christopher Nolan Films, According To Cillian Murphy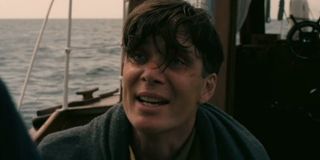 Dunkirk is undoubtedly one of the most eagerly anticipated films of the summer. Mostly because it will see Christopher Nolan dabbling with a war film, a genre that especially seems suited to his cinematic sensibilities, for the first time. But while we can expect Nolan to recreate the same style and ferocity that we've seen in the likes of The Dark Knight, Inception and Interstellar, the one aspect of Dunkirk that makes it different to the director's other films is that we already know how the film ends.
This is a point that Cillian Murphy raised during his recent discussion with the Guardian. The Irish actor, who plays a stricken soldier in Dunkirk, didn't go into too much detail regarding the film. But he did point out that you can find out for yourself what the main gist of it is. All you need to do is pick up a history book, since it was one of the most famous incidents in World War II. Murphy explained:
The evacuation of the northern French coastal city of Dunkirk between May 26 and June 4, 1940, was actually originally labelled the 'Miracle Of Dunkirk' by Winston Churchill. It's easy to see why, too. Because after being surrounded by the advancing German army, 338, 226 Allied soldiers from Britain, Belgium, Canada and France were evacuated from the beach by a fleet of just 800 boats, which were a mixture of Royal Navy and French ships, as well as a wide variety of small vessels that travelled over from the south English coast and were manned by civilians.
But while this retreat is now widely acknowledged as a triumph amidst tremendous adversity, as so many soldiers were saved from what appeared to be certain death, it still resulted in the loss of around 68,000 men, while Winston Churchill would declare to the listening British public during a speech to the House Of Commons just a few days later, "We must be very careful not to assign to this deliverance the attributes of a victory. Wars are not won by evacuations."
Quite clearly Dunkirk isn't going to be a barrel of laughs, especially since Christopher Nolan is far from renowned for his comedic sensibilities. But the fact that the acclaimed director is working in such a serious and high-regarded genre that is regularly lapped up during awards season has already led to early chatter that, if it cuts the mustard, Dunkirk might be an Oscar contender. We'll be able to judge for ourselves when Dunkirk is finally released on July 21.
Your Daily Blend of Entertainment News
Thank you for signing up to CinemaBlend. You will receive a verification email shortly.
There was a problem. Please refresh the page and try again.