The Main Problem With Making Men In Black 4, According To The Original Director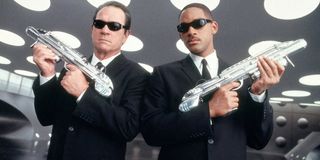 One of the most startling revelations of the Sony hackings was the fact that the studio were considering a potential Men In Black and 21 Jump Street crossover. After initially being left a little perplexed by how the franchises would link up, fans soon realized that there were just way too many talented folks involved for it not to work. But the cold harsh realities of filmmaking are set to block either a Men In Black/21 Jump Street crossover or a fourth Men In Black film from ever happening. That's according to director Barry Sonnenfeld, who insists that there are just too many "expensive players" involved with Men In Black for a fourth film to work and be profitable.
Barry Sonnenfeld, who has directed all three of the Men In Black films, believes that because of the long list of producers and the money Will Smith would expect to make, too many people need to get paid before a new installment can go ahead. Sonnenfeld made this admission to Digital Spy, before saying that the only way he can see the franchise progressing is with new agents. As he put it:
But while Barry Sonnenfeld was a little downbeat about the chances of a fourth Men In Black film happening with the original team involved, he did insist that there was plenty of room in this universe for further efforts. In fact, Sonnenfeld even went as far as to insist that he hopes the franchise does progress without him, Will Smith and Tommy Lee Jones. The director declared:
Talk about taking one for the team. This isn't the first time that we've heard rumors about just how many people have their fingers in the Men In Black pie, and how the congestion surrounding the franchise is the reason why the potential crossover with 21 Jump Street hasn't materialized. Back in August 2016, Jonah Hill downplayed the chances of MIB 23 ever actually happening, as he insisted to the Toronto Sun that it was "impossible" to make a deal between the two franchises because of "all the Men In Black stuff."
There's still a little bit of hope out there for the film, though, because not only was its title confirmed as MIB 23, and that the crossover would replace a 23 Jump Street film, but as recently as December 2016, it was announced that Rodney Rothman had written a script, and that James Bobin was still attached to direct, too. But don't expect Will Smith or Tommy Lee Jones to actually star opposite Jonah Hill and Channing Tatum in the potential film.
Your Daily Blend of Entertainment News