We Finally Know What's Going On With Music In Disney's Mulan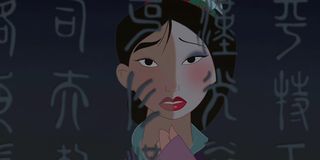 Disney is making a killing off of Beauty and the Beast, which is currently still playing in theaters. Because its live action versions of animated films have done well so far, it's not a real shock that the House of Mouse is looking to make more versions of classic films, including a live action take on Mulan. There's been some back and forth regarding whether or not Mulan would incorporate musical elements from the animated film or would be more of an action-based movie, but now director Niki Caro has given the final word that there will at least be some music in the movie. Here's what she said:
Niki Caro also stressed that negotiations are still ongoing, and the cast for Mulan isn't even close to coming together yet. As such, Mulan is very much a fluid project right now, and we probably won't be hearing about any specific details related to the music for at least a little while. She also told THR that she personally hasn't started on the movie, yet, as she's busy promoting The Zookeeper's Wife, which opened this past weekend.
The news comes just a few weeks after Niki Caro sparked a rumor that no music would be a part of the upcoming adaptation. She said at the time the plan was to steer away from the music, but then she quickly backtracked on those comments a few days later, stating then that no decision had been made about music, yet. Now, Caro seems to be indicating there will, in fact, be music in the upcoming film, although she's still being vague about what that will entail, because obviously Mulan isn't all that far into the development process, yet. We do know that Niki Caro has said she plans to make sure that culture is reflected appropriately in the movie when it comes together, as well.
Mulan is actually based on very famous Chinese ballad about a young woman who took her fathers place in the Army, focusing on martial arts and being skilled with a sword. Regardless, the version of the character that most Americans are familiar with is the one we saw in the 1999 film Mulan, which featured such popular songs as "Reflection," "I'll Make a Man Out Of You," and "A Girl Worth Fighting For." While the idea of a movie that is heavy on the action is appealing, doubtless fans of the animated movie will want to see at least a few of their favorite songs again in the new movie.
Mulan isn't the only live action film that is currently in development at Disney. A Cruella De Vil movie, The Jungle Book 2 and Dumbo are some of the live action movies that have been bandied about, among others. You can take a look at all of the fairytale remakes that are in the works with our full list. Doubtless some of these movies may end up not getting made or take a while to get made, but if Beauty and the Beast's box office intake is any indication, most of these live action remakes should be a good bet.
Your Daily Blend of Entertainment News
Reality TV fan with a pinch of Disney fairy dust thrown in. Theme park junkie. If you've created a rom-com I've probably watched it.
Your Daily Blend of Entertainment News
Thank you for signing up to CinemaBlend. You will receive a verification email shortly.
There was a problem. Please refresh the page and try again.