Why Arnold Schwarzenegger's Conan Sequel Is Dead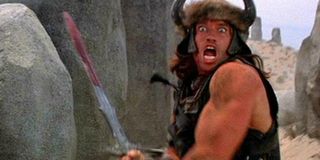 Bad news Arnie fans, the long proposed sequel to 1982's Conan The Barbarian is officially dead. Producer and screenwriter Chris Morgan has admitted there just wasn't enough interest from Universal Pictures in returning to the beloved franchise over 35 years after the original was released, especially since its budget was beginning to spiral out of control. There were other issues, too. Here's what Chris Morgan dejectedly confessed...
Poor Chris Morgan. You can really feel the heartbreak in his words to Entertainment Weekly over the disintegration of the project. Despite his screenwriting exploits on the past six Fast & The Furious movies, Chris Morgan was mainly involved as a producer on The Legend Of Conan. But it's also believed that he helped to hone Will Beall's script for the film during its development, too, so clearly there's some level of personal attachment to the project.
While it is heartbreaking to hear The Legend Of Conan is no more, it's actually hardly a surprise. It has been close to five years since Universal Pictures originally announced in October of 2012 that the studio had plans for Arnold Schwarzenegger to return in the role of Conan. This was a much simpler time for Hollywood, when a studio would sometimes still rush to develop a new version of an intellectual property or franchise it had at its disposal, and then simply expected audiences to go and watch in droves. With The Legend Of Conan, Universal Pictures decided to bypass the 1984 sequel Conan The Destroyer, while also ignoring Jason Momoa's attempt 2011 reboot, which was also entitled Conan The Barbarian.
By 2014, it had already been announced that Arnold Schwarzenegger would make The Legend Of Conan after he'd shot Terminator Genisys, while Andrea Berloff (World Trade Center, Straight Outta Compton) was hired to write the script. In 2015 Andrea Berloff was replaced by Will Beall, though, and even though his script was reportedly finished just a few months later, and included the return of four characters from the original, no release date was forthcoming. Even as recently as 2016 Arnold Schwarzenegger was insisting there was still interest in the film, but over the last year there really hasn't been a peep about it.
In addition to Chris Morgan's comments, following numerous failed attempts to launch franchises (Pan, Ender's Game, The Golden Compass, Percy Jackson to name but a few) Universal Pictures suddenly got cold feet. It probably didn't help that Jason Momoa's Conan film grossed just $48.8 million from a $90 million budget back in 2011. It also probably didn't help that Terminator Genisys' underwhelming domestic box office haul proved that the return of Arnold Schwarzenegger may not be quite as alluring as it once was. All of which suggests that Universal Pictures has probably made the right call in shelving The Legend Of Conan. At least we now have some answers as to why.
Your Daily Blend of Entertainment News
Thank you for signing up to CinemaBlend. You will receive a verification email shortly.
There was a problem. Please refresh the page and try again.