Where Star-Lord And Yondu Stand In Guardians 2, According To Michael Rooker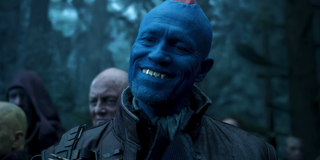 One of the most interesting aspects of Guardians Of The Galaxy Vol. 2 will be the relationship between Yondu and Peter Quill. Especially because the first film ended with Quill tricking Yondu into taking a container supposedly holding an Infinity Stone, when he actually gave the real Stone to the Nova Corps. But by the time of Vol. 2, all has seemingly been forgiven. That's according to Michael Rooker, who is reprising Yondu in Guardians Of The Galaxy Vol. 2, and who recently admitted that Yondu and Peter Quill are on great terms during the film. Rooker explained:
The big question now after Michael Rooker's remarks to USA Today (opens in new tab) is whether or not Peter Quill and Yondu will be so pally throughout all of Guardians Of The Galaxy Vol. 2. Let's not forget that as well as being tricked by Peter Quill at the end of Guardians Of The Galaxy, Yondu and the Ravagers issued a bounty for his capture and spent most of the film trying to track him down. Sure, they ultimately teamed together with the Nova Corps to confront Ronan and even managed to defeat him, but there's clearly a level of distrust between the pair.
This is complicated even further by the fact that Yondu and The Ravagers were the ones who actually abducted Peter Quill from Earth all the way back in 1988. But at the end of Guardians Of The Galaxy, Yondu revealed that they never actually delivered Quill to his father as per their contract, meaning that Yondu and The Ravagers actually raised him. Of course, since Guardians Of The Galaxy Vol. 2 will see Quill finally being introduced to his father Ego, played by Kurt Russell, all kinds of different emotions are set to bubble to the surface for Yondu. Plus, I imagine Ego will have some rather choice words for him, too.
All of which makes Guardians Of The Galaxy Vol. 2 such an alluring proposition. Especially since James Gunn more than proved with its predecessor that he can handle such a huge, fun movie with aplomb, while everyone who saw Guardians Of The Galaxy fell a little bit in love with Star-Lord (Chris Pratt), Gamora (Zoe Saldana), Rocket (Bradley Cooper), Drax (Dave Bautista) and Groot (Vin Diesel) when they watched it. You can whet your appetite for Guardians Of The Galaxy Vol. 2 by watching its trailer below.
Guardians Of The Galaxy Vol. 2 will finally be with us on May 5.
Your Daily Blend of Entertainment News
Thank you for signing up to CinemaBlend. You will receive a verification email shortly.
There was a problem. Please refresh the page and try again.