Watch John Boyega Reunite With BB-8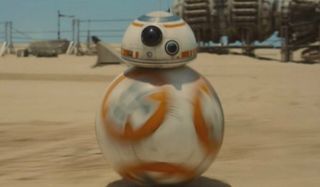 After the release of The Force Awakens, a whole heap of Star Wars fans became addicted to exploring and evolving the bromance between Finn (John Boyega) and Poe Dameron (Oscar Isaac). But there was clearly another relationship that deserved this kind of love and attention, too, because a new video has emerged of John Boyega reuniting with BB-8, and the sudden kinship between the pair is palpable. You can check out the footage of the Star Wars brethren together again below, which you really should do because it will instantly warm your heart.
Not only does the above Collider video remind the world that John Boyega is one of the most delightful leading men in Hollywood (I mean, just look at the way he immediately tries to play with BB-8) but it also proves that Disney and Lucasfilm need to try and pioneer the technology to turn BB-8 into a pet that the whole world could have. If Russia can build a robot that's able to fire guns like the Terminator, then surely the technology is also available to put a BB-8 in every home.
The big question now, though, is whether or not we'll actually get to see that much of John Boyega's Finn and BB-8 together during Star Wars: The Last Jedi. The very first trailer for the sci-fi space opera--which was released last week to an uproarious response--did indeed show BB-8 rolling alongside his old pal Poe Dameron as the duo headed towards an intergalactic battle. However our main concern is regarding how much we'll see of John Boyega's Finn in Episode 8. Who after his lightsaber battle Kylo Ren (Adam Driver) was left badly incapacitated. At the end of The Force Awakens, Finn had seemingly fallen into a coma, and the trailer for The Last Jedi seems to indicate he may not be out of that state yet.
I mean, just look at him. He's got his eyes closed, he appears to be surrounded by medical equipment and is inside the equivalent of some-kind of iron lung. Clearly, something is not quite right with Finn. Or maybe he has actually already fully recovered, is resting his eyes, and is just getting some shut-eye in before joining BB-8 and Poe Dameron in battle. Equally likely possibilities at this juncture, really. The first trailer for Star Wars: The Last Jedi did a stellar job of teasing some of its titanic fight sequences, and you can whet your appetite even further for the film by watching it in all of its glory below.
Star Wars: The Last Jedi will finally be with us on December 15, while those of you wanting to see something in cinemas before then can check out CinemaBlend's full 2017 schedule to see what else might be worth catching on the big screen.
Your Daily Blend of Entertainment News
Thank you for signing up to CinemaBlend. You will receive a verification email shortly.
There was a problem. Please refresh the page and try again.