7 Ways The Marvel Cinematic Universe Can Change Moving Forward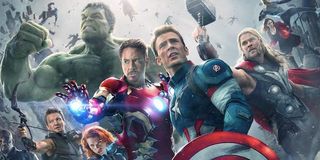 Marvel has done something amazing over the course of the last decade. From its first origin story with 2008's Iron Man, the Marvel Cinematic Universe has become a sprawling landscape of incredible superhero adventures and truly colorful characters. This business model has carried the MCU through two highly successful phases of films and into the current Phase Three, but it is clear that some massive changes are in store once The Avengers: Infinity War debuts in theaters next year.
As Marvel continues to close in on the climax of Phase 3, it becomes even more important for us to look ahead at what the comic book giant can do with its massive interconnected universe as it moves into "Phase 4." On that note, we have put together a list of changes that Marvel needs to make as it evolves its business model and starts to try new things with its superhero movies. We have plenty of arguments to get to, so let's kick this off with a conversation that's going to need to take place no matter what: the changing of the guard.
Start Retiring Phase 1 Marvel Heroes
Live-action versions of comic books have one primary drawback that comics have never had to struggle with: the passage of time. Marvel's Phase 1 heroes get older with each passing year, and while all of them have stayed in great shape, the fact of the matter is that none of them can remain in their respective roles forever. Robert Downey Jr., Chris Evans and Chris Hemsworth started this gran experiment. But we're going to reach a point where it's time for them to move on. Is it sooner, or later?
On that note, instead of recasting iconic actors like Robert Downey Jr. and Chris Evans when they age out of their roles as Iron Man and Captain America, it seems to be in Marvel's best interest to retire these Phase 1 heroes -- at least for the foreseeable future. By taking characters like Tony Stark and Steve Rogers off of the table, Marvel can tell audiences that they still exist in the Marvel Cinematic Universe, while simply shifting focus to other heroes who have a longer shelf life.
Move Away From The 'Phase' Format Altogether
The Phase model has served the Marvel Cinematic Universe well over the course of the last decade, but now it needs a serious overhaul -- or it needs to be done away with altogether. Marvel will obviously never stop planning its moves ten steps in advance (that's how the studio has managed to stay ahead of the competition), but the way in which Marvel announces its planned storylines requires an update.
The problem with the Phase model is that fans have become excellent at analyzing the films in each Phase (as well as the movies' placement in each slate) and figuring out how these stories will tie into each other before they even hit theaters. Marvel needs a new model that will keep its storylines held a bit closer to the vest, and it needs to implement that change after Infinity War finally debuts.
Establish The Illuminati
By the time Infinity War rolls around, most of the major components of Marvel's Illuminati will already be in place and ready to be adapted by the MCU, so it makes perfect sense for this mysterious group of heroes to receive a proper introduction in the post-Phase 3 era. The roster for The Illuminati has remained fluid over the years, but it has included: Black Panther, Tony Stark, Reed Richards, Charles Xavier, Blackbolt from The Inhumans, and Stephen Strange. It's a "who's who" of powerful beings from the Marvel universe.
Bringing The Illuminati into the Marvel Cinematic Universe opens up a broad range of potential storytelling avenues that would've previously not worked for the Marvel franchise. These include (but are definitely not limited to) World War Hulk, and Secret Invasion -- two fan-favorite storylines that would take the MCU into an entirely new realm.
Embrace Team-Up Movies
Marvel has mastered the art of the solo movie and pioneered the massive team-up film. The next order of business is establishing a strong sense of continuity between the smaller Marvel Cinematic Universe adventures. The best way to do this is to spend more time pairing heroes who complement one another off into intriguing matchups.
We already see hints of this taking place with this year's Thor: Ragnarok -- which will see Thor team up with The Incredible Hulk in order to escape from a gladiator-style world called Sakaar. However, that is still definitively a Thor movie. From there, we want to see Marvel go even further and allow multiple heroes to share top billing on a non-Avengers movie. After all, we doubt Hawkeye will ever get a film on his own. Pair him up with Black Widow? Then we might have something big on our hands.
Make Black Widow A Standalone Franchise
Speaking of Black Widow, we would just like to take this opportunity to double down on our insistence that she deserves a solo movie. There is no room for debate on this one; Natasha Romanoff has remained a central member of the Marvel Cinematic Universe for the better part of the last decade, and Scarlett Johansson's increasing comfort in the role makes the prospect of a Black Widow movie seem like a no-brainer.
Marvel Studios would also be wise to acknowledge the fact that female-fronted superheroes are becoming the norm. DC will have beaten Marvel to the punch with Wonder Woman by the time Captain Marvel hits theaters, and the X-Men universe has allowed its female heroes to share much of the real estate with the male heroes. With Scarlett Johansson's star power behind it, a Black Widow solo movie could dominate the increasingly progressive comic book movie field.
Introduce The Fantastic Four
Marvel has added some serious fan-favorite characters into the fray in recent years, but a select quartet has remained just outside of arm's reach for the MCU. That's right; we're talking about the Fantastic Four. Marvel's first family has experienced a continuously rocky silver screen existence during its time at 20th Century Fox, and we think it is time for them to return home to the folks at Marvel finally.
Rumors have already started to swirl that this is going to take place. Specifically, the fourth film in The Avengers saga is tentatively titled Avengers 4, and while some have assumed that's a placeholder, others have guessed that it could hint at four beloved heroes joining the fray. This could be the film that sees Reed Richards, Ben Grimm, Sue Storm, and Johnny Storm finally enter the Marvel Cinematic Universe.
Hint At Connections To The X-Men
Last, but not least, we come to the holy grail of behind the scenes Marvel deals. While Marvel Studios has proven that it knows how to work wonders with the heroes that it currently has at its disposal (which is admittedly a lot) the fact of the matter is that not having access to the X-Men is Marvel's biggest disadvantage against DC. They need the X-Men back, and it needs to happen soon.
Pulling this off would inherently prove exponentially more complicated than the Sony Spider-Man deal, but it would be well worth it in the long run. Fans have clamored for the X-Men to cross over with the MCU since the very idea of a cinematic universe was proposed, and it would ultimately serve as one of the easiest ways to ramp up fan excitement following the epic showdown in Infinity War. We want mutants, so give us mutants.
How do you think the Marvel Cinematic Universe should change in its post-Infinity War years? Let us know what you think in the comments! Phase 3 will continue its hot streak when Guardians of the Galaxy Vol. 2 debuts in theaters on May 5.
Your Daily Blend of Entertainment News
Originally from Connecticut, Conner grew up in San Diego and graduated from Chapman University in 2014. He now lives in Los Angeles working in and around the entertainment industry and can mostly be found binging horror movies and chugging coffee.
Your Daily Blend of Entertainment News
Thank you for signing up to CinemaBlend. You will receive a verification email shortly.
There was a problem. Please refresh the page and try again.