How Much Kevin's Home Alone 2 Trip Would Have Cost In The 90s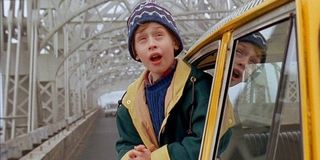 If Home Alone 2: Lost In New York proved anything it's that Kevin McCallister sure knows how to travel in style. Of course, that was fine for the diminutive burglar slayer, because he wasn't actually footing the bill at the end of his adventure. But how much did his father Peter McCallister have to splash out at the end of the Home Alone sequel to cover his son's extravagant costs over just three days and two nights in New York, one of which was spent at the Plaza? We finally know the answer, and it wasn't cheap, as Kevin's time in New York came to the grand sum of $2,235.84.
But how did Kevin McCallister get to such a huge sum in only a matter of days? Well, it was the nineties and his flight from Chicago to Miami would have come in at $103.97. But considering that he managed to bungle a free flight from Chicago to New York after crashing into the check-in lady, I think we can call that one even. Then he hailed one of New York City's famous yellow cabs, which took him from JFK airport all the way to midtown Manhattan, as he was dropped off outside Radio City Music Hall. This cost him just $25, which is a far cry from the amount they cost today, as the bare minimum for this journey is $55.
Then Kevin McCallister did some light spending on some fireworks and visited a variety of tourist attractions, which I can only assume he managed to get into with just his charm and trickery, and certainly without paying. He even managed to get all the way to the roof of the World Trade Center to get a birds-eye view of Manhattan.
But it was Kevin McCallister's decision to live it up at the Plaza Hotel that really cost his father a fortune. That's because a room at the iconic New York hotel set his father back $1,100 a night just to begin with. Of course, Kevin McCallister didn't just stop there, though. Because once inside he then decided to live like a king, getting a hoard of room service sent to his room on a regular basis. This included one pastry cart that came to around $210, and then 8 strawberry tarts that cost the outrageous amount of $76. As his despicable family member Buzz delightfully revels in revealing right at the end of the film, Kevin McCallister actually spent $950 on room service during his stay at the Plaza, which of course included the renting of a particularly legendary gangster movie that he then used to trick the idiotic staff at the hotel with. Any opportunity to watch that clip again is always appreciated, and you can feel free to give it a go yourself.
The huge amount spent by Kevin McCallister in New York was calculated by Entertainment Weekly, who also revealed that the amount would come to around $2,800 today. But considering that Peter McCallister owned a hugely impressive home in an affluent suburb of Chicago and previously paid for his entire family to travel on two holidays to Paris and Miami, I think he can afford it.
Your Daily Blend of Entertainment News
Your Daily Blend of Entertainment News
Thank you for signing up to CinemaBlend. You will receive a verification email shortly.
There was a problem. Please refresh the page and try again.