Apparently, Blockbuster Has Survived In The Unlikeliest Of Places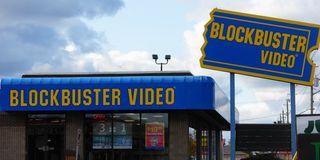 (Image credit: Photo courtesy of Wikipedia.)
It was three years ago now that we announced the once video rental giant Blockbuster was closing the remaining 300 stores open in the United States after years of having to shut down locations as stores lost business to Netflix, Video On Demand and even Redbox. But that ultimately hasn't proven totally true. A new report indicates there are 10 Blockbusters still open and operating in the United States. A chunk of those are actually operating out of Alaska, and are reportedly still doing decent business in the area.
So, how has Blockbuster managed to survive for so long? The owner of seven Blockbuster stores in Alaska (full disclosure: he also owns one in Texas), Alan Payne, says that business is certainly down from its earlier heyday but that an older audience does still flock into his stores to rent movies and more. He says that people in Alaska still come to stores because they offer a distraction in the winter and Wi-Fi, which is apparently expensive in the area. In addition, the people still coming in are often an older audience that are still willing to rent movies the old-fashioned way.
Although Blockbuster has survived in Alaska and a few other locations, we wouldn't say that it is a thriving business. Alan Payne, who recently spoke to The Washington Post about the chain, noted that he used to own 41 Blockbuster stores. He's been able to keep the remainder open without having to fire people thanks to a little bit of ingenuity and something he calls "managed downscaling." Despite this, he had to close one store in Texas last year, and has to get creative to keep the doors open at his other stores.
Still, there's something intriguing about the way the man has been able to breathe some life into a business model most people essential thought was dead. Who knows, maybe there will be room for a comeback down the line? Record sales made a comeback after years of declines, after all, and in 2016 the vinyl industry hit a 28-year high. Maybe there will be an innovative idea in the world of Blockbuster that is innovative enough to make it a niche business again, who knows? If not, anyone who did ever have an account at a Blockbuster or any video rental store should find it at least a little bit comforting that the warm, bright lights and the big blue and yellow sign are still out there operating. Although most of us probably don't miss the late fees associated with the franchise one bit.
It should be noted that Alan Payne expected to be out of business a long time ago, but his store is still plodding along and he says his employees are loyal enough that they want to stick it out as long as the movie store is still an option. If you do live near one of his store's maybe head over there and rent a video, for nostalgia's sake?
Reality TV fan with a pinch of Disney fairy dust thrown in. Theme park junkie. If you've created a rom-com I've probably watched it.
Your Daily Blend of Entertainment News
Thank you for signing up to CinemaBlend. You will receive a verification email shortly.
There was a problem. Please refresh the page and try again.