The Legendary Horror Director Who Walked Out Of Reservoir Dogs, According To Quentin Tarantino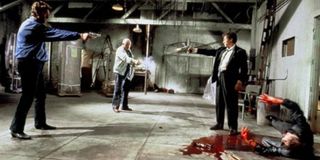 Shortly after Reservoir Dogs premiered at Sundance back in 1992, reports of its violence immediately started to emerge and almost instantly grew to mythical proportions. Such stories are always good for independent movies, as it shines more light on them, while it also helped that Quentin Tarantino and those behind Reservoir Dogs knew that the film was so much more than its bloodshed. But there was one famous horror director that couldn't get past the gore, because Quentin Tarantino has now revealed that Wes Craven actually walked out of an early screening for the film. The incident occurred at the Sitges Film Festival back in 1992, and Quentin Tarantino recently recalled:
As well as directing The Last House On The Left, Wes Craven also oversaw The Hills Have Eyes, A Nightmare On Elm Street and Scream during his long and storied career, before he passed away at the age of 76 in 2015.
Quentin Tarantino made this admission during the recent panel for Reservoir Dogs to celebrate the 25th anniversary of the iconic crime thriller, which was held in accordance with the Tribeca Film Festival on Friday. I was lucky enough to attend the screening and the subsequent question and answer session, which saw Quentin Tarantino reunite with cast members Tim Roth, Steve Buscemi, Harvey Keitel and Michael Madsen.
At the event, Quentin Tarantino also opened up about the first ever screenings for Reservoir Dogs at the 1992 Sundance Film Festival, and CinemaBlend previously reported about how it was a complete debacle. But during this explanation, Quentin Tarantino also touched upon the initial uproar surrounding the film's legendary torture scene, insisting that he never worried that it was too excessive because he was always confident it was actually the best scene in the movie. Quentin Tarantino explained:
You can watch the iconic sequence, which sees Michael Madsen's Mr Blonde torturing a police officer he's captured, in all of its glory below. Those of you who are rather squeamish might want to proceed cautiously, though.
Cleary all of the chaos surrounding the above scene didn't do either Quentin Tarantino or Reservoir Dogs any harm, because the film is still regarded as one of the finest of the last 25 years. Tarantino even managed to top it with his next outing Pulp Fiction, before then securing his standing as one of modern cinema's most popular auteurs with the likes of Jackie Brown, Kill Bill, Inglorious Basterds, Django Unchained and The Hateful Eight.
Your Daily Blend of Entertainment News
Your Daily Blend of Entertainment News
Thank you for signing up to CinemaBlend. You will receive a verification email shortly.
There was a problem. Please refresh the page and try again.