Is Josh Gad Aiming For A Villain Role In The DC Extended Universe?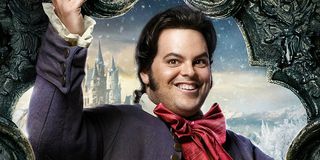 It's hard to argue against the notion that Batman has the best villains in the entire comic book landscape -- DC or otherwise. His foes all represent specific facets of his personality, but none of them highlight Bruce Wayne's silver spoon upbringing quite like Oswald "The Penguin" Cobblepot. The prim and proper character hasn't appeared on the silver screen since Danny DeVito took on the iconic role in Tim Burton's Batman Returns, but now it looks like Beauty and the Beast actor Josh Gad may be hinting at his interest in playing the part. Check out the star's post.
With that one tweet, Josh Gad has managed to unite the entire internet in near universal praise of this idea. There's no rumor, much less a confirmation that he has signed on to portray The Penguin in the DC Extended Universe, but the overwhelmingly positive response to this idea (coupled with his interest in taking on the role) makes this seem like a no-brainer if anyone is thinking about it. It's rare to see so many different people voice their approval for a potential casting decision, but this one appears to have resonated. Gad already looks quite a bit like Oswald Cobblepot (minus some of the basic make-up to make him look creepier) and his clear sense of theatricality would make him a perfect choice to join Batman's rogues gallery for The Dark Knight's next solo movie.
Despite a few missteps since Man of Steel debuted in 2013, the DCEU has managed to consistently get one thing right: casting. If the folks and DC Entertainment and Warner Bros. manage to lock down Josh Gad for the role of Oswald Cobblepot, it could only add to the tradition of solid casting choices like Ben Affleck as Batman, Margot Robbie as Harley Quinn, and Gal Gadot as Diana Prince.
Bringing The Penguin into the DCEU fold could represent a smart move at this stage of the silver screen DC universe. While most versions of the character share a similarly cartoonish appearance, his basic personality is almost always portrayed as sadistic and evil. Given the heightened reality and dark tone of the DCEU, this could make him a perfect villain choice when the solo Batman movie roles around. If anyone can nail that part, it's Josh Gad.
Of course, it's worth pointing out the fact that actors have a tendency to post photos like this -- only for nothing to ever come of it. For example, The Magnificent Seven's Haley Bennett similarly posted a picture of Catwoman a few months ago, and that subsequently led to a massive surge in speculation that she may take on the role of Selina Kyle in Gotham City Sirens. The problem with that report is the fact that there's been no real follow-up, which leads us to believe that she simply posted the photo because she likes the character. The solo Batman movie is likely now in a much better place now that Matt Reeves has joined the film, but it's still anyone's guess as to whether or not Josh Gad will ever portray The Penguin. It's still fun to consider, though.
We will just have to wait and see whether or not Josh Gad will sign on to portray Oswald Cobblepot in the DCEU. For now, you can catch The Caped Crusader in his next silver screen adventure when Zack Snyder's Justice League debuts later this year on November 17, 2017.
Originally from Connecticut, Conner grew up in San Diego and graduated from Chapman University in 2014. He now lives in Los Angeles working in and around the entertainment industry and can mostly be found binging horror movies and chugging coffee.
Your Daily Blend of Entertainment News
Thank you for signing up to CinemaBlend. You will receive a verification email shortly.
There was a problem. Please refresh the page and try again.