J.J. Abrams Changed The Force Awakens' Ending To Help Set Up Star Wars: The Last Jedi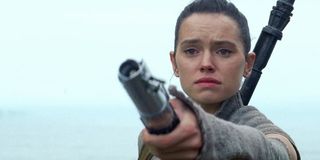 Because Rian Johnson signed up to write and direct The Last Jedi so early, he was privy to the conclusion for The Force Awakens long before us mere mortals had the chance to see it. It's a good job that was the case, too, because after seeing what J.J. Abrams had in store for the ending, The Last Jedi director had a polite request. Rian Johnson asked his predecessor if R2-D2 could be the one that travels alongside Rey to find Luke Skywalker, as the script originally had BB-8 going along for the ride instead. After recently being asked if he'd asked J.J. Abrams to change anything about The Force Awakens, Rian Johnson admitted:
Luckily for Rian Johnson, like a genie that's just emerged from a bottle, J.J. Abrams decided to grant him this one request. This revelation, which Rian Johnson made to Entertainment Weekly, actually goes quite some way to clearing up this slight peculiarity from Star Wars: The Force Awakens. I for one did find it weird that R2-D2 was invited along for the trip in favor of BB-8, who Rey had developed quite a kinship with over the length of the movie.
At the time, I just put it down to Rey thinking R2-D2 would help to smooth over the awkwardness between herself and Luke Skywalker, and he could be the one to introduce her. Instead, R2-D2 didn't even come up the steps of Ahch-To, and Rey's way of greeting Luke was to silently hold out his lightsaber with a weirdly intense look on her face. If you can't quite remember the conclusion to Star Wars: The Force Awakens, you can relive it again by watching it below.
We'll see how Luke Skywalker responds to Rey suddenly appearing on the Oceanic planet, and if Rey starts to feel left out if Luke, Chewbacca, and R2-D2 start cracking inside jokes in the opening moments of Star Wars: The Last Jedi. Those of you who are worried that Rian Johnson's decision to pick R2-D2 over BB-8 could mean he's going to ostracize the rotund droid shouldn't fret, though, because Johnson just wanted it to spend more time around X-wing pilot Poe Dameron in The Last Jedi.
The first trailer for The Last Jedi has already shown BB-8 rolling alongside his old pal, while the reunion of R2-D2 and Luke Skywalker will surely provoke the latter to explore why he went off to Ahch-To for so long after Ben Solo turned into Kylo Ren. We'll see if that's the case when Star Wars: The Last Jedi is finally released on December 15.
Your Daily Blend of Entertainment News
Thank you for signing up to CinemaBlend. You will receive a verification email shortly.
There was a problem. Please refresh the page and try again.