Wait, Will Star Wars: The Last Jedi Feature A Horse Race?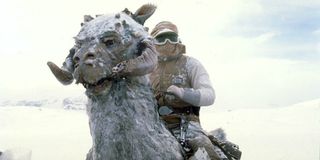 Now that we have just a couple of months left to wait until Star Wars: The Last Jedi is finally in theaters, details and rumors regarding what we can expect to see in the blockbuster have started to emerge with a tad more regularity. The latest speculation is more than a little surprising, though, because it has now been alleged that The Last Jedi is going to feature a horse race of sorts.
But before you start imagining Luke, Leia, Chewbacca, Rey, and Finn having a flutter (otherwise known as betting) at the intergalactic equivalent of the Kentucky Derby, this race isn't going to be of the competitive or monetary variety. Instead, it will depict our heroes getting away from some of The Last Jedi's villains on horseback. We here at CinemaBlend are imagining something in the vein of Return Of The Jedi's speeder bike sequence on Endor, a scene that you can remind yourself of below.
Obviously, we're about to get into some potentially specific spoilers here, if the rumors hold true. According to Making Star Wars's sources, this Last Jedi scene will be set on the planet of Canto Bight, which has tantalisingly been referred to as "the casino planet." The "space horses" that will be used by John Boyega's Finn and Kelly Marie Tran's Rose are actually called "falthiers," and they are regarded as hugely expensive "race horses" on this world. Insiders have even described falthiers as a mixture of The Neverending Story's luck dragon mixed with a tauntaun, just with the head of the horse. Basically they're fugly.
Details of the scene, and how Finn and Rose actually use the falthiers to their advantage have also been revealed. The scene will reportedly start off in the stables, which Finn and Rose use as a refuge from a posse using "luxury speeders." It has also been alleged that the men on these vehicles will be dressed in tuxedos of a sort, which suggests that Finn and Rose might cause mayhem at a rather classy event. While they try to hide out in the stables, Finn and Rose will meet an alien that looks after the falthiers, as well as some jockeys. Finn will then steal one of the creatures, ride away, and eventually have a duel with his well-dressed adversaries. Rose should help Finn to defeat them, and then the du will head to the rendezvous to meet their contact.
Sounds like gripping stuff, but I for one already believe that the planet of Canto Bright is ripe for further Star Wars adventures. Clearly some sort of Ocean's Eleven style spin-off needs to immediately be put into development, which could see Finn and Poe bringing a whole team together to try and rob a casino. Or, the Star Wars franchise could even take a more serious turn, and create a character-driven piece that focuses on Chewbacca's gambling problem that's exacerbated when he's on the planet. We'll finally get our first proper look at Canto Bright--and maybe a horse race--when Star Wars: The Last Jedi is released on December 15.