One Thing That Sucks About Being A Director, According To Ridley Scott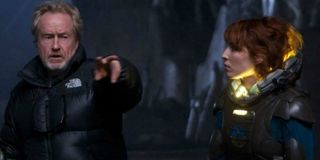 (Image credit: [Image by Fox])
Ridley Scott is one of the most proficient filmmakers currently working in cinema, as he has somehow managed to direct and produce five films since 2012. But even though Alien: Covenant will mark his 24th movie, the British director insists that he wishes he could have made umpteen more. In fact, Ridley Scott finds it extremely frustrating that while he can only make one film a year, actors can just jump in and star in four. Sir Ridley Scott recently declared:
Ridley Scott shouldn't be so hard on himself, though, as he has managed to rack up a tremendous body of work during this time, which has included some of the finest films ever made. Ridley Scott is particularly efficient when it comes to knocking out his films. In fact, during the same interview with The Guardian, the director broke down how he was able to get Alien: Covenant made in a preposterously short amount of time, as well as doing so at a relatively cheap cost.
Ridley Scott explained that while a film of the size and scale of Alien: Covenant should have taken 100 days to shoot, he was actually able to do so in 74. Also, rather than spending somewhere between $180 million and $260 million on the film, they were able to shoot Alien: Covenant for $111 million. Ridley Scott had some rather harsh words for any director that spends around $250 million on a movie, too, as he remarked:
But while Ridley Scott is particularly tireless when it comes to stepping behind the camera, Michael Fassbender's schedule in front of it is just as hectic. In 2015, he appeared in three films (Slow West, Macbeth and Steve Jobs), in 2016 he went one step further and popped up in four (X-Men: Apocalypse, The Light Between Oceans, Trespass Against Us and Assassin's Creed), while by the end of 2017 he will have starred in Song To Song, The Snowman and Alien: Covenant. You can take a look at the trailer for Alien: Covenant, which actually marks the third time that Fassbender has collaborated with Ridley Scott, below.
Alien: Covenant will be released into theaters on May 19th, while you can check out my review for the horror sci-fi epic. If you don't think Alien: Covenant is quite for you then you can browse through CinemaBlend's 2017 movie schedule for some tips about what you might actually want to see over the coming weeks and months.