The Frightening Sea Monsters That May Show Up In Aquaman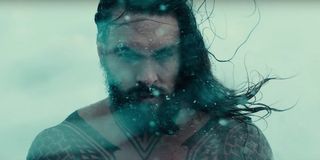 Aquaman won't get much of a break coming out of Justice League. In his solo movie next year, it's been confirmed that he'll be tangling with Ocean Master and Black Manta, and then there's King Nereus, who reportedly wants Arthur Curry dead. You think that would be enough to keep Aquaman busy, but on top of all that, now there's word that we may see the water-themed superhero fighting some frightening sea monsters. Going off the description, these Aquaman monsters sound like they could be the menacing Trench.
The folks over at Superhero News have heard that Aquaman will feature sea creatures that are bipedal humanoids with arms, legs, fins, big heads, big eyes and very sharp teeth. As the hosts observed, while the creatures weren't named by the sources, those features line up perfectly with The Trench from the comics, seen below. What's also interesting is that rather than being completely CGI creations, these creatures will supposedly be played by actors wearing full-body suits and stilts, and the faces will be animatronic.That's not to say that the creatures won't later be augmented with CGI in post-production, but overall Aquaman is primarily leaning on practical effects to bring them to life.
Assuming that these sea monsters are indeed The Trench, this isn't the first time they have been rumored to be included in Aquaman. Back in October 2014, around the time when the initial DC Extended Universe film plans were announced, it was reported that The Trench would appear with Ocean Master, Mera and Black Manta in the movie. These creatures are about as savage as they come, so expect them to be used as Aquaman's brute force, filling the "disposable minions" roles quite nicely.
The Trench were introduced at the start of Geoff Johns' Aquaman run when The New 52 began in 2011. Living on the ocean floor, they were driven to always find food, and some were even willing to kill each other to satisfy their appetites. When they came to the surface and attack a small town, Aquaman and Mera fought off the creatures and took the battle to the ocean floor, which culminated in a battle with the gigantic Trench King. The Trench were later unleashed during the Throne of Atlantis event, and not long after that, Arthur was forced to command them when fighting The Dead King.
No specific plot details for Aquaman have been revealed yet, but the movie will follow Arthur Curry as he attends to his royal duties in Atlantis while also keeping both the surface world and Seven Seas safe. The main cast includes Jason Momoa as the eponymous hero, Amber Heard as Mera, Willem Dafoe as Vulko, Patrick Wilson as Orm (a.k.a. Ocean Master), Yahya Abdul-Mateen II as Black Manta, Nicole Kidman as Queen Atlanna, Temuera Morrison as Thomas Curry and Dolph Lundgren as King Nereus.
Aquaman dives into theaters on December 21, 2018.
Connoisseur of Marvel, DC, Star Wars, John Wick, MonsterVerse and Doctor Who lore. He's aware he looks like Harry Potter and Clark Kent.