One Star Wars Name Is Getting Way More Popular In Real Life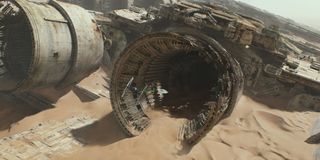 It's very common for names to become popular thanks to pop culture. Celebrity kids names like Ireland or Sailor have caught on in the past, and Marjorie has seen an uptick thanks to the popularity of Margaery on Game of Thrones--may she rest in peace. The Social Security Administration has just released the most popular baby names from the past year, and among them is the name Kylo, which shot to prominence thanks to the popularity of Star Wars: The Force Awakens.
We should point out that the name Kylo, based off of Adam Driver's character Kylo Ren, is not among the top 5 baby names of the year. However, it is significant because it saw the largest increase of any boy's name in the year 2016. Back in 2015, the name was the 3,269th most popular name in America. Then, in 2016, the name jumped up 2,368 spots to become the 901st name. Yeah, #901 isn't as impressive as #5 would be, but percentage-wise, that's a huge jump. And the pop culture references don't end there. The boys name Creed also bumped up 370 spots to become the name with the second highest jump in 2016. The Social Security Administration is not definitively connecting that name with the movie Creed, but I don't think we need to look much further.
There's no doubt that Kylo is a catchy name; it's so catchy that the character formerly named Ben Solo picked it out for himself after being seduced by the dark side. With that in mind, though, it seems like there are a whole slew of parents out there who are fine with giving their kids names related to those on the dark side. I wonder how many of them also signed on for Ren as a middle name?
Still, I suppose there are worse names than naming your kid after a Star Wars villain. In fact, New Zealand has a whole list of banned names, including the likes of 4Real and Mafia No Fear. Next to those, Kylo is positively tame. In fact, even next to the girls names that bumped up the most spots, Kylo is positively catchy. (The #1 and #2 girls names in terms of increases were Kehlani and Royalty.) Also from Star Wars: The Force Awakens, the name Rey saw a small bump up--albeit for a boy and not a girl.
If you'd like to take a look at a whole slew of names that saw increase in 2016, head here. Or you can catch the original Kylo Ren in action when Star Wars: The Last Jedi hits theaters on December 15, 2017. In addition, here's what we know about the upcoming flick before its holiday release.
This poll is no longer available.
Amazing Race & Top Chef superfan with a pinch of Disney fairy dust thrown in. If you've created a rom-com I've probably watched it.
Your Daily Blend of Entertainment News
Thank you for signing up to CinemaBlend. You will receive a verification email shortly.
There was a problem. Please refresh the page and try again.