Why David Beckham Looks So Gross In King Arthur, According To Charlie Hunnam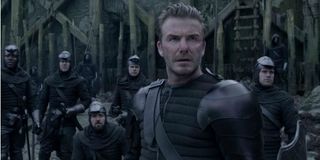 It is an indisputable fact that David Beckham is about as handsome a man as you're ever likely to gaze upon. The fact that he's an athlete, model and worldwide phenomenon is proof of that. But for the former Manchester United and England winger's cameo in King Arthur: Legend Of The Sword, David Beckham was made to look downright disgusting. Charlie Hunnam, who stars in the film playing King Arthur, has now told Graham Norton, and in effect the rest of the world, that he was the reason why David Beckham was made to look so hideous in the film. Charlie Hunnam quipped:
While Charlie Hunnam's comments about David Beckham's cameo in King Arthur were very much tongue in cheek, Guy Ritchie actually went into further detail about how the footballer was cast. It turns out that David Beckham and Guy Ritchie are neighbors, and not only do their kids go to the same school together, but the pair also frequent the same pub and gym together. Plus, Guy Ritchie has also directed David Beckham in The Man From U.N.C.L.E. and a number of commercials, too. Clearly the topic of King Arthur: Legend Of The Sword must have arisen when the pair bumped into each other at either the school, pub or gym, as Guy Ritchie then explained that "one thing led to another" and he decided to offer David Beckham the rather pivotal role of Trigger, the guard who is overseeing the attempts to remove Excalibur from the stone.
Despite the appearance of David Beckham, King Arthur: Legend Of The Sword has had a rough go of it at the box office since it was released last week. Although I liked the flick, it has so far only made $43.8 million at the box office and most critics have not been on board (although audiences are more favorable). There has even been speculation that it could end up costing Warner Bros. somewhere around $150 million. Charlie Hunnam spoke out more about King Arthur: Legend Of The Sword during his appearance on The Graham Norton Show alongside the film's co-writer and director Guy Ritchie. You can watch a snippet from this interview below.
Those of you who want to form your own opinions on King Arthur: Legend Of The Sword can do that by heading to your local theater now to check out the blockbuster, or you could have a look through CinemaBlend's full 2017 movie release schedule to pick out an upcoming film that tickles your fancy.
Your Daily Blend of Entertainment News